Send a message with a Valentine's Day wine chosen to perfectly suit the status of any romantic liaison (or lack thereof)
Love it or hate it, Valentine's Day is upon us. You may think it's a Hallmark holiday and eschew the commercialism of it all, but if your spouse, partner, or significant other feels differently, you're probably going to have to mark the event. Whether you're choosing off a list when going out to dinner or buying a gift for your sweetie, wine can literally be a message in a bottle!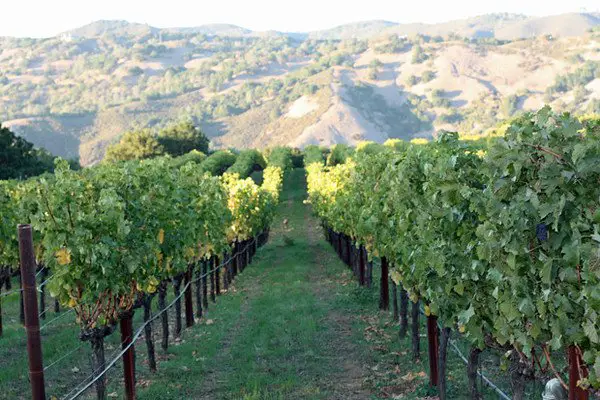 As Travel Belles, we know that each country has a unique culture and feel to it. The people, the customs, the food, and the wine help tell the story of that culture. This Valentine's Day, use the language of wine and travel to send a message to your honey.
Here are five Valentine's Day wine ideas to get you started…
1. To tell your mate that you want to keep it light, flirty, and not so serious, choose a sparkling wine from Napa.
Napa is often referred to as adult Disneyland.
And since combined with Sonoma County, it's the second most visited attraction in California after the kids' playland, it's fitting.
California is all about casual relaxation and bubbly is the ultimate expression of keeping things upbeat and celebratory. If you want to tell your love you have a blast with him/her and you value fun first and foremost, get a California sparkling wine, pop the cork and just enjoy the moment.
2. For the hot, heavy, and passionate relationship choose a spicy, fruity Argentinean Malbec from Mendoza.
Argentineans don't lack ardor (evidence, the Tango…), and these red wines grown high in the mountains are filled with fruitiness, spiciness, and a straightforward flavor that's satisfying and pleasing. Not too complex or over thought, Argentinean Malbecs have rich, delicious plum and cinnamon flavors. They're not too expensive and are a complete hedonistic delight. Great with steak, and foods from the grill, this is a straight shooter of a wine. If you want to signal passion without the analysis, here's your wine.
3. On the other side, for a deep, mysterious, complex relationship Pinot Noir from Burgundy is the way to go.
Red Burgundy, or Pinot Noir, is so complex and varies so much depending on the plot of land where the grapes are grown that the Benedictine and Cistercian monks of the Middle Ages studied and cataloged the strange phenomenon for centuries.
A good Pinot Noir from the communes of Vosne-Romanee or Chambertin is so complex, so nuanced, so hard to describe that it's the perfect wine to send a message of "it's complicated." These will cost you a pretty penny but are worth it (now you just have to decide if your partner is!).
4. If you're in it for the long haul, go for a Barolo from Italy.
To show devotion and dedication, go for Barolo from the Northeastern area of Piedmont. These wines are down-to-earth (they actually kind of taste like dirt, so I mean that literally), have powerful mouth-drying tannins, and show no lack of boldness.
They are made from the Nebbiolo grape, something that can't grow well outside the region (i.e., this grape doesn't cheat on its homeland!) and they are often called intellectual wines because they require thoughtful consideration to really appreciate.
Also, these wines need to age for at least 10 years before they are at their best. If you're committed to your relationship, buy this baby to signal longevity and dedication.
5. On again and off again? German Riesling can reflect that attribute handily.
With the German wine regions being so far north, and located inland, the weather is erratic at best. Some years it's sunny and beautiful and the grapes get super ripe and make deliciously ripe, peachy wines with enough acidity to keep it interesting (and make them great pairings with Asian cuisine!).
Other years, forget it! Late frosts, cool weather, and too much rain plague the vineyards and wreck the harvest. You never know what you're going to get with German wines, it's all up to mother nature.  If you're on a roller coaster ride with your love,  a good vintage German Riesling can show that although there are bumpy years, the good stuff is worth waiting for!
6. No current liaison? How about a grassy Sauvignon Blanc from New Zealand as a tasty reminder that the grass is always greener on the other side.
Whatever you choose for your special Valentine's Day wine, I say grab a bottle and do some armchair travel to mark the day… and tell your mouth that you love it with something delicious from a wine region you want to visit.
So what's the wine status of your love life this Valentine's Day?
Photos property of and by the author.
Pin for Later