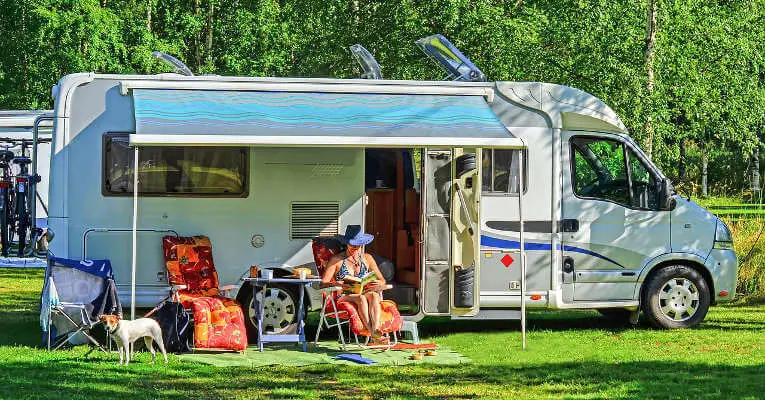 Top Tips for Road Tripping America in an RV
Every traveller's bucket list has a road trip on there somewhere, especially as it's (sadly) rare to find yourself living in an RV full time and constantly exploring anymore.
Usually travellers want the classic American road trip: RV, sunsets and amazing sights.
And, whether it's the official Route 66 or just part of it you're going on, our top tips for road tripping America in an RV have all of the advice and life hacks you could possibly need to survive your journey.
1. Plan well – don't romanticise disorganisation
Anyone who has ever been on a road trip or a long travelling trip will tell you that there is no pleasure in failing to organise it beforehand. The romantic notion of planning none of it before you go is just that: a romantic notion. It's not practical and not something we'd advise. You want your travels to be as stress-free as possible, so make sure you plan well.
Planning well for road tripping America in an RV includes mapping out your route to the furthest extent possible. You'll need to ensure you know where the attractions you want to visit are, where your overnight possible parking spots are and the places you want to stop off at. You don't need to religiously plan when you'll be there, but it's a good idea to mark out where you want to go, and where you can go. That way, your options are always open!
2. Buy a National Park pass
Chances are, one of the main reasons you're road tripping America in an RV is because you want to see the amazing National Parks the country has to offer. From the Grand Canyon to Yosemite to Yellowstone, over one million acres of stunning landscape and wildlife is up for viewing on your US road trip, so buying a National Park pass will work out in your favour money and experience wise at $80.
Even if you're not sure if you'll go to a few National Parks, it's worth purchasing a pass because you can also add an element of spontaneity to your trip. And if you're going to Alaska, it's basically destiny that you'll head to a National Park, so you should just invest in one of these passes before you head off.
3. Keep a constant speed throughout
There is nothing worse than having to walk a few miles to fill your RV with fuel if it runs out mid-way through a leg of the journey. You don't want to have to do that, so one of our top tips just has to be to pick a driving speed and sticking to it throughout the whole journey so that you're able to calculate how often you need to refuel.
It's also important to note that the speed you pick should be one that also allows you some room to be flexible. Don't pick one that's too slow, but definitely don't pick one that's too fast or you'll destroy the RV's fuel economy. Steady always wins the race, so be safe and mindful of your surroundings.
Oh, and if you want to be extra safe, have some fuel in the RV just in case anything drastic happens. That way, you're prepared for everything and you won't need to walk miles to refuel!
4. Be aware of your eating and drinking habits
When you're driving in the RV on the road all day, you're going to get tired. But you'll be even groggier if you eat big meals before driving for hours due to the impact it has on you. You'll be more inclined to have a rest after a large meal and you don't want to take your eye off the ball at 2pm in the afternoon.
And when it comes to alcohol, we don't recommend drinking before a long drive, or in the mornings. Save the alcohol for your big evening meal, then you can savour both the food and the drink right at the end of the day while watching the sun set. What's more, you can sleep right after it too. Be aware of your habits and keep them in check when driving across the states.
5. Get a gas card
Road tripping America in an RV means you'll be using a whole lot of fuel. And you might as well get something back for it, so get yourself signed up for a gas card. Every time you refuel, you can get points which can translate into free (or cheaper) fuel next time.
If you do anything, make sure it's getting a gas card. You'll save yourself some money which can be spent on other things along the way. Like a Grand Canyon keyring. Or a bottle of beer.