Famed the world over, South Africa's beautiful, lush Cape Winelands are known for their incredible wines, immaculate estates and intense natural beauty.
Edged by mountains, rolling farmlands and quiet Cape towns, the Cape Winelands are a thrill any time of year – come rain or shine.
And they are not just unique for their beauty and exceptional wines – because these gorgeous winelands offer an array of fun things to do too.
With everything from wine trams to eagle encounters and romantic carriage rides through the vineyards in store for you – here are four uniquely fun experiences to enjoy in South Africa's Cape Winelands Region.
South Africa's Cape Winelands Region – Best Things To Do
1. The place of wine farm picnics – and eagles
Few places scream 'wine farm thrills' quite as loudly as Spier Wine Farm. Here, not only can you enjoy top class wines, relaxed dining and Segway tours through the vines – but you can also channel your inner bird lover when you visit the amazing, on-site Eagle Encounters.
This rehabilitation centre is a wonderful safe haven for all kinds of birds of prey – and even a few exotic creatures, like reptiles and caracals (known locally as a 'rooi kat', which translates to red cat) too!
During your visit, enjoy watching and part-taking in the insightful and engaging flying show, which sees adorable dancing Barn Owls, speedy falcons and other birds of prey displaying their flight speeds, hunting prowess and cute personalities to the public… In fact, if you're lucky, you might even have an owl or two land on your arm!
Once you've had your fun with the birds, head off to enjoy a memorable wine farm picnic, which you can book a day or two prior to your visit.
Picnics are prepared by Spier's wonderful Farm Kitchen and are perfect for two sharing! There are seasonal or vegetarian options available… and Spier's incredible food and wine is sure to hit the right spot every time!
2. Wine farm hopping in fairest Franschhoek
While it is undoubtedly one of Franschhoek's most famous wine experiences, there are still many SA locals and international visitors alike who have never heard of or enjoyed the sheer pleasure of the Franschhoek Wine Tram!
If you're one of these unfortunate travellers – you need to add this to the top of your Cape Winelands checklist. This is because the tram offers a day full of possibilities like amazing wine tastings, scenic beauty, quality wine farm restaurants and estate experiences.
There are several different lines – classified according to colours, like Blue, Red, Pink and Yellow – and each line offers a choice of several different wine farms to enjoy.
You don't have to get off at every stop – and if you want to spend an hour per farm, it's pretty doable!
However, half the fun is soaking up the cultural joys (think: well-preserved museums and Cape Dutch manor houses), pre-booking a picnic or restaurant meal to enjoy on the day or simply strolling about an estate at your leisure.
Whichever line you choose, you're in for tremendous fun as, with this great adventure – you can hop on, hop off at Franschhoek's most famous wine estates!
3. Babylonstoren: Where gorgeous gardens and wines meet
If there's one wine farm in the Cape Winelands which everyone unanimously raves about, it's got to be Babylonstoren. And when you visit this laid-back working wine estate and rustic farm, it's not hard to see why that is…
Offering two wonderful restaurants in Babel and Greenhouse, a labyrinth of gardens (equipped with everything from cacti to Cycads), opulent accommodation and spa treatments and much more – Babylonstoren is the real wine farm deal.
Rich in farm experiences, history and quality food and wines, this estate is ideal for the whole family to enjoy and is perfect for celebrating special gatherings and occasions too.
So, if you can only visit a handful of the Cape's incredible wine farms, be certain to count Babylonstoren among them…
4. A romantic carriage ride through the vineyards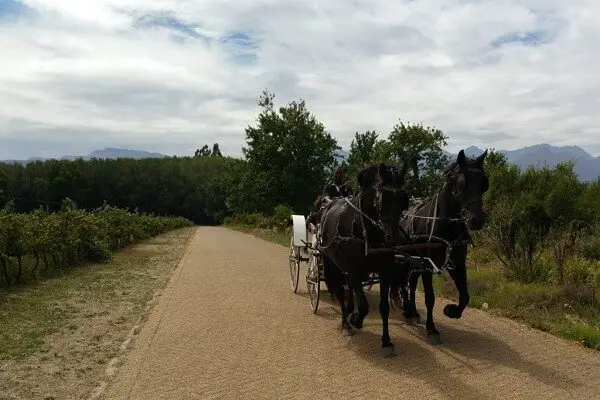 Boschendal Wine Estate is one of South Africa's most prestigious and popular wine farms.
Time and time again, wine lovers and wanderlust-filled explorers visit this quality Franschhoek wine farm and fall hopelessly in love with it, promising to return again someday!
Not only does the estate offer gorgeous accommodation, highly touted eateries, beautiful garden spaces, incredible mountain scenery and iconic picnics… But it also provides a lesser-known (but no less memorable) experience, sure to delight both young and old: a carriage ride through the vineyards!
Specially geared at love-struck couples, this unique wine farm experience is as timeless as it gets.
It's ideal for both that special date and simply, a relaxed, intimate time together and it allows you to soak up the sights and sounds of this stunning farm, as you trot slowly around.
Whatever you have planned, this is one of the most delightful farm experiences the Cape Winelands has to offer, so don't miss out!
So, if you are looking for new and engaging ways to experience South Africa's rich Cape Winelands, look no further than this quartet of fun activities!
Pin For Later