Head to Hungary's capital, Budapest, to find the most beautiful cafe in the world.
Budapest is the perfect introduction to Eastern Europe.
It is cosmopolitan enough to feel familiar, with grand civic buildings – its parliament building is even modeled on London's – but with enough of its own identity to offer a starting point for an Eastern European novice, like me.
I struck lucky when booking a girls' trip and managed to get a great deal on rooms in the Boscolo New York Palace Hotel, which certainly looks like a palace. Situated on Erzsébet körút, a main street on the Pest side of the city, it's also well-located for getting to the main sights of the city, with the river a 10-minute walk away.
You may also like: Budapest Day Trip
We're more used to cheap hotels than 5-star luxury – a fact we probably failed to hide as we walked in with our jaws hitting the floor.
The hotel is home to the New York Café, the aforementioned most beautiful café in the world, or – as they say in Hungarian – a világ legszebb kávéháza.
On the first day of our trip, we simply peered into the café, beguiled by the shimmering lights and the opulent décor, but our eagerness to explore the city took over.
However, on the second day, we ensconced ourselves at a table and gazed in wonder at our surroundings. There were high ceilings painted with classical style frescoes and decorative pillars adorned with gold.
Sparkling chandeliers cast kaleidoscopes of light through the multi-leveled salon and a pianist at a handsome grand piano was playing gentle tunes to accompany the quiet chatter of the customers.
We tried at first to take pictures surreptitiously, not wishing to look too much like crazy tourists, but in the end we gave up and just snapped away. Pictures taken, we turned our attention to the menu.
You may also like: Culture, Cafes And Crosswords In Berlin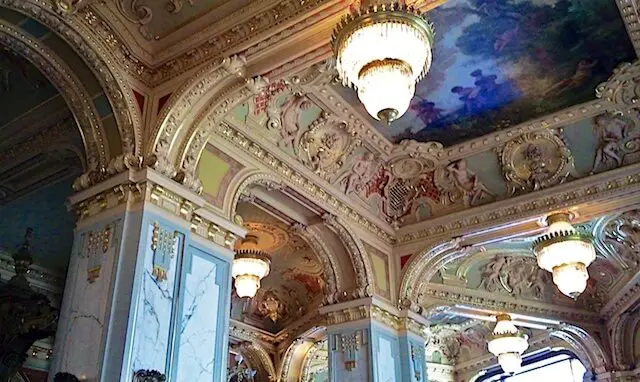 The list of coffees and cakes reads like something dreamt up in a more sophisticated and adult version of Charlie and the Chocolate Factory; every coffee and dessert fantasy you've ever had is there.
From the fierce chili coffee, which comes with a whole red chili atop a generous swirl of whipped cream, to the indulgent Moroccan coffee, lightly spiced and rich with cream, everything is impossibly decadent.
The desserts, meanwhile, combine the best of French patisserie with traditional Hungarian ingredients, such as walnut mousse and cherries.
Even the architecture of the cafe, which at first just seems splendidly grand, echoes the 'Charlie and the Chocolate Factory' feeling of the menu: While it does indeed have that Belle Époque style reminiscent of the great Parisian salons, it also has something whimsical about it which sets it apart.
Rather than being classically straight the pillars and balconies twist almost fluidly, whilst the light and airy eggshell color scheme makes it feel almost cloud-like.
The café was originally designed by the architect Alajos Hauszmann and opened in 1894.
Though the main building was used for an insurance company, the beautiful café quickly attracted the literary and artistic minds of fin-de-siècle Budapest. While it is a high-end café now, stories abound that struggling writers in those days had access to pens, paper and cheap coffee, and could sit there all day, drawing inspiration from the frescoes and architecture.
However, like most of the beautiful buildings of Budapest, it fell into ruin following the Second World War and the rise of communism. It is only relatively recently, in 2001, that the café was carefully restored to its former glory and opened once again, as part of the New York Palace Hotel.
Nowadays it is full of tourists, rather than writers, but the architecture and art of this café cannot fail to inspire any visitor. I would love to go back in time and experience it in its heyday, but a coffee there nowadays is still a pretty special experience.
You may also like: Bistro, Brasserie, Cafe Or Wine Bar – The Differences
Just being there, it is hard not to soak up the stories of a place which has gone through some of the most troubled and turbulent events in Europe's history, but has managed to re-establish itself as the world's most beautiful café.
All photos property of and by Katy Stewart ©
Pin For Later