A recent trip to southeast New Mexico reminded me of the challenges and joys of traveling with children under 10.
To be exact our nine, seven and five-year-old grandchildren accompanied my husband and me to visit Carlsbad Caverns National Park and White Sands National Monument while their parents enjoyed a second honeymoon.
It was a fun experience, but we were reminded that traveling with children isn't the same as the same trip by ourselves.
You may also like: A Guide To Flying With Children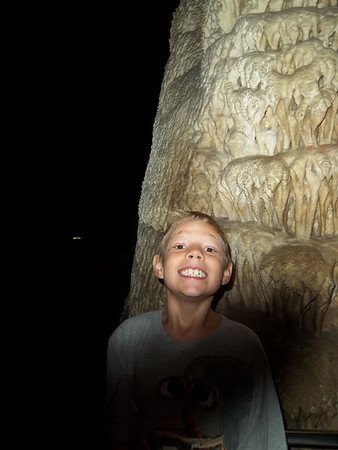 Our adventure began in Portales, NM, known for peanuts and dairies.
We drove south through Roswell, best known for its alien connection, although there are other things like the New Mexico Military Institute to see. Then it was on through Artesia to Carlsbad. After two days in Carlsbad we drove back to Artesia, over the mountains, through Cloudcroft, to Alamogordo.
Our last day was a trip home via Tularosa, Ruidoso, then Roswell and back to Portales. It was about a 500-mile round trip that reminded me that children have only a vague sense of distance and time. When we arrived in Alamogordo, for instance, the youngest was convinced we'd be driving back to the motel in Carlsbad that night.
The sights are amazing and astonishing.
Carlsbad Caverns National Park and White Sands National Monument are separated by the Sacramento Mountains, but originally were part of the same ancient sea floor.
While receding water and other erosion formed the Caverns near Carlsbad, the uplift and wearing away of the gypsum deposits formed the nearly 300 square miles of White Sands not that far away, as the hawk flies.
That the same origin could have created two such different results struck me as a powerful reminder of how amazing God is.
If you are interested in such things, twice a year you can visit Trinity Site, where the first atomic bomb was tested and see where the sands were melted to glass.
In case you haven't recently had the opportunity to travel with children, here are ten tips that may jog your memory or help you on your next adventure.
Travel Tip #1
Cities should, but don't always advertise the location of parks, especially those with restrooms and play equipment.
If, like us, you want to do a picnic lunch it is hard to locate an acceptable park. We finally found one in Carlsbad, just off the main highway at San Jose Blvd. and Diaz Street, right next to San Jose Catholic Church.
The church bells welcomed us and there was even a nice stage, perfect for aspiring little actresses to be stars. We were entertained by singing and dancing, until it was time to leave.
Alamogordo, on the other hand, has a park right along the highway next to their zoo.
The Alameda Park Zoo is the oldest in NM, but sadly their hours didn't agree with our time schedule. Maybe on the next trip. However, the park has a nice playground area and nearby restrooms. There is plenty of room for several groups to play and picnic at the same time.
You may also like: Shopping in Oaxaca, Mexico for Treasures
Travel Tip #2
Stay alert at all times, children have an amazing capacity to vanish behind bushes in seconds even in parks with wide-open spaces.
Gathering pine cones "to make bird feeders" is a delightful game, until the little seekers disappear behind hills and trees in their search! They can also drop into deep water way to quickly for comfort when swimming, even in a pool marked only three feet deep.
Underground in Carlsbad Caverns, the ranger's advice to remain within arm's length had to be reiterated several times as adventurous children trotted ahead of the adults.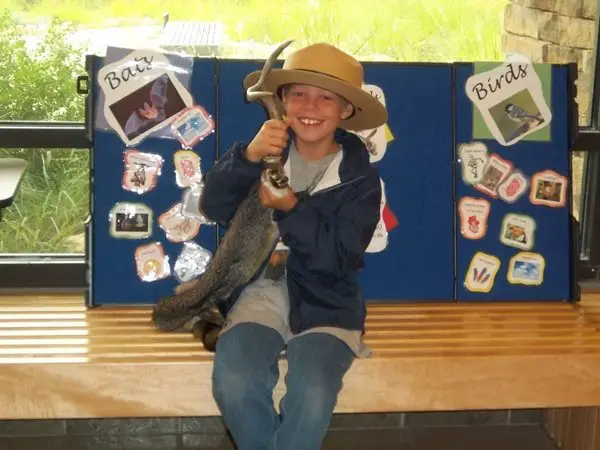 Travel Tip #3
Take advantage of the park activities for children. Carlsbad had several hands-on things to do, White Sands, however, did not.
Donning a ranger hat and holding a fox skin is heaven for a nine-year-old boy. The only thing better is adding an antler to make an entirely new animal-the elusive fox-a-lope.
You may have heard of jack-a-lopes, but the fox-a-lope is even rarer. In fact, I think this is the only photograph of one in existence. Almost as much fun as the fox skin and coyote skulls were turning paper bags into bat puppets under the guidance of a young volunteer. The backseat of the car housed a trio of playful flying paper bag bats for the rest of the trip.
Travel Tip #4
'Cave kisses' (drips from the ceiling of Carlsbad Caverns) are much to be desired for their good luck according to the ranger introduction.
Enterprising children learn to identify damp spots on the Caverns' trail so they can stand in the spot hoping for a drip. The record in our group went to William with 10 cave kisses. A ranger told him that he was now a stalagmite and would have to stay in the cave.
Throughout the tour, he wanted his picture taken next to every formation, so he was delighted to imagine himself as part of the cave!
Travel Tip #5
Children can enjoy and learn at the same time without elaborate explanations. Like little sponges, they absorbed the beauty and while they might not understand the geology of the caves, the word "awesome" and "let's see the next miracle" were often heard.
We wisely opted to ride the elevator in and out rather than walk-in down the natural entrance.
Little legs, and I'll admit grown-up ones, would not have enjoyed that hike or made it around the Big Room if we had hiked in. The incredible formations and even more interesting underground pools keep the attention of all the children until we were very near the end of the circuit. The Carlsbad Caverns website has some nice teacher resources to help children prepare for their visit to the caves.
I had great plans of doing some of the activities, but I am glad I didn't because the experience in itself was enriching.
Travel Tip #6
Even tired children are enthralled by thousands of bats swirling from a cave. We almost turned back on the drive to the Bat Flight because of complaints from tired children. However, we pressed on and were rewarded by rapt attention from all three youngsters as the bats started to emerge from the cave.
Carlsbad was discovered because of the bat flight, so it is an important part of any visit. In 1898, Jim White saw what he thought was smoke going against the wind and tracked it back to the source—the entrance to the cave.
Being a normal 16-year-old boy, he explored and discovered the wonders below ground. It is said that he landed in a 40-foot high pile of bat guano on his first foray into the cave! Fortunately, you don't have to experience that any longer.
Sure enough, just at dusk, looking like the smoke Jim White originally thought he saw, the bats came boiling out in wave after wave of small mammals. Most of them did fly in formation toward the river, but a few took a spin over the audience first to the delight of everyone.
You may also like: Visiting Tuscany, Italy with Young Children
Travel Tip #7
Food tastes better in the forest with just a bit of dirt on it. Lunch found us almost to Cloudcroft on the three-hour trek from Carlsbad to Alamogordo. However, we opted for a drive up a forest road for a spot to eat. Some comfy logs and rocks became seats and our laps served as tables. Even the tumble of an apple into the dirt didn't end the fun.
Travel Tip #8
Be sure to pack properly for White Sands. You can hike or drive through the acres of sand. Like most, we parked in one of the parking areas to play on the dunes.
We remembered extra water and sun block along with buckets and shovels. Hats and even an umbrella would have been nice as protection against 100-degree sun reflecting off the sand! Despite the heat, sand castles and sand angels were created.
We tossed Frisbees and baseballs and blew bubbles until we adults decided it was time to get out of the heat.
For miles, before we arrived at White Sands, the five-year-old asked repeatedly 'where are the white sands?'
Even inside White Sands Monument, the sands aren't immediately white, so her question had validity. Once she spotted the miles of white, she expected them to be cold and started talking about her winter coat. A second or two on the sands, though, convinced her they weren't cold.
Even in the heat of the summer, the gypsum sands do not get searing hot. You can comfortably sit, dig, play and walk barefoot over them, even when the temperature hovers near 100.
Travel Tip #9
Nothing like a little frozen custard to end the day on a happy note. What a lovely surprise to drive down the street in Alamogordo and see Caliche's.
Once upon a time, this frozen custard emporium had only one location—70 miles away in Las Cruces. Now it has expanded to Alamogordo with the same delicious chocolate and vanilla custard that you can top with anything, literally, from hot fudge or nuts to green chili.
We ordered 'Gizmos' for the adults, plain cones for two kids and a cup with pistachio nuts for the third. The fresh pistachios weren't what she expected, but the world's largest pistachio at McGinn's Pistachio Tree Ranch was worth a look.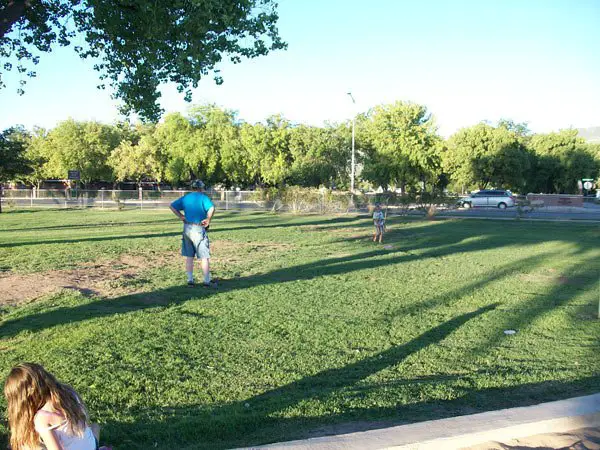 Travel Tip #10
Memories made with children are priceless and should be savored. The trip was an adventure and an experiment that I think all involved found successful. While they may not have articulated it, I think the children were affected by the grandeur and sheer size and diversity of what they saw. My husband and I had a chance to learn more about the grandchildren than we have in previous visits with parents present, too.
Bonus Travel Tip…
When you have a chance, take your grandchildren on a vacation adventure with you. It's worth it. The experience is entirely different than the same experience with your own children.
A visit to Carlsbad Caverns National Park and White Sands are both worth the trip. Remember a jacket for the cave and plenty of water for White Sands. There is fishing and hiking that we didn't take advantage of and the Space Museum in Alamogordo that we also briefly considered visiting. I don't think anyone can visit these natural wonders and not be amazed, no matter what age.
Pin for Later