After spending a month traveling around Thailand I put together a list of my top 10 favourite activities and places to visit! It's not just the top attractions or tourist hotspots which made the list, but some of the most secret locations and activities which were a little 'out of the way'.
All these activities were 100% worth the journeys and the money and I would highly recommend!
1. Wat Pho temple (Bangkok)
If you ever want to experience glitter and sparkle overload you should go to Wat Pho. It was without a doubt my favourite temple in Thailand, it was absolutely beautiful and so relaxing to walk around. It is home to the large (and I mean huge) reclining Buddha and is full of golden statues and white marble flooring.
2. Baiyoke Sky bar (Bangkok)
Viewing Bangkok from above is a must! Escape the hustle and bustle and eat to your hearts content at the buffet restaurant as well as visiting the sky bar for a cocktail. On the roof there is a 360 degree revolving viewing platform which you can see all the city lights.
You may also like: Best Things to Do in Phuket Thailand
3. Night bazaar (Chiang Mai)
You will most definitely find colourful pants galore, a whole host of street food and elephant themed everything at Chiang Mai's famous night bazaar. It is a shopper's paradise and is around 1km long. Open from dusk until midnight you can bargain you way to find some good deals.
4. Bandekdee Orphanage (Chiang Mai)
One of the most loving and caring places in the world. Visiting Manop and all the beautiful kids at the orphanage was an eye opener and was a highlight of my trip. They are so happy and grateful of all they have and helping in any way you can goes along way. Go and visit, spend time with the kids and those who run it, donate supplies and toys and help in the work they do to give the kids a happy home.
5. Elephant Nature Park (Chiang Mai)
My heart is so full after visiting ENP. It is home to 72 elephants rescued from all walks of life as well as its volunteers. Day visits involved learning about the elephant industry in Thailand, feeding, bathing and meeting the elephants as well as exploring the grounds and eating an amazing vegetarian buffet! Follow the link as to why you should visit (https://travelhappyblog.com/elephant-nature-park-chiang-mai-why-everyone-should-go-and-visit/)
6. Chiang Mai Cabaret Show (Chiang Mai)
One of the most popular shows in the city is located in the Anusarn Night Market. Fill your evening with Chang beer, glitter, pop songs, lady boys and dancing.
7. Challenge Lake (Koh Phangan)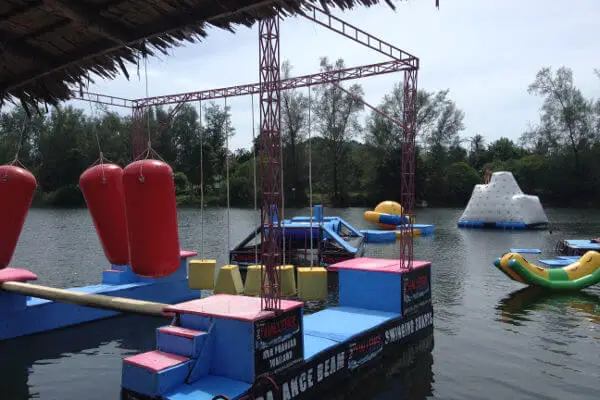 Probably the most fun you will have in a long time! Test yourself on the inflatable obstacle course and feel like you are on Thai Total Wipeout. Getting across the big red balls and the rolling barrels is a lot harder than it looks but give it a go and try to beat the leader board times. Spend the day testing your strength and swimming skills or sunbathing on the inflatables.
You may also like: Splashing into Thai New Year in Thailand
8. Secret mountain (Koh Phangan)
Sunset are my favourite but there's just something else about watching it from a viewing platform with an infinity pool and cushions on the floor. Buy a drink and use the pool for free and relax while the sun goes down over the island.
9. Bottle beach (Koh Phangan)
Definition of paradise! Stay overnight in beach bungalows, shower amongst the palm trees, watch the fire show after sunset and kayak in the sea. There is no better place to drink frozen cocktails and relax on tree swings.
10. Koh Nang Yuan Island (near Koh Tao)
The bluest water and the whitest sands you've ever seen can be found on the private island of Koh Nang Yuan. Hike up the view point for amazing photo opportunities and snorkel in the Japanese gardens to be surrounded by tropical fish and coral.
When I go back to Thailand I will definitely be going back to all of these places. Go for yourself and see…you won't regret it!