It's easy for life in the suburbs to be tame. Here we are, living almost right on top of each other, but with our fences, driveways and diverse lawn mowing patterns. Our boundaries are very visible with sharp corners. As inhabitants, we get excited over the doorbell ringing, sudden cracks of thunder in the late afternoon and new neighbors from new states. The week after Thanksgiving when everyone puts up their Christmas lights launches us into a civilized frenzy. Frankly, it sometimes scares the crap out of me.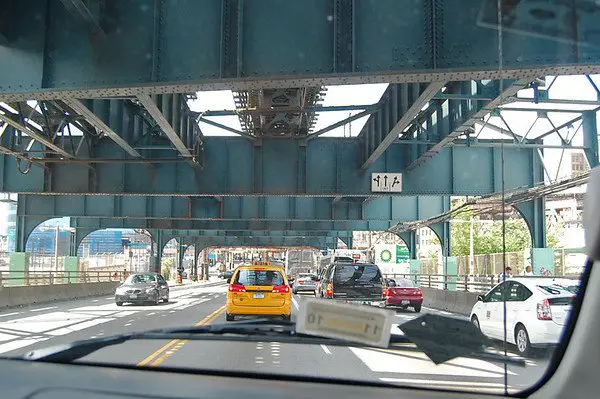 When visiting New York City, I like the way you immediately can become immersed in the throng of whatever is going on.  A minor detail does not stop the bumpkin I pretend I'm not, from pulling out my camera in the airport van on the way from LaGuardia on the Queensboro Bridge. Even though I know the scene was shot under the Brooklyn Bridge, something about it feels like the famous car chase from The French Connection (minus a runaway train, the wrecks, and a baby carriage).
I ride shotgun, my Gene Hackman, a Puerto Rican woman who has just told me about her grandson needing a place to swim in this ungodly heat. In a battle of vehicle noses, the application of brakes alternates with acceleration.  That scene, although carefully executed, was a rollicking, haphazard genius scene of guerrilla filmmaking, where according to moviemaking lore, no roads were closed by a film company, and a camera was strapped to the front of Gene Hackman's car.
Suddenly brakes are applied, tires squeal and just short of contact, we come to a stop. My Puerto Rican friend raises the backside of her hand and splays her fingers towards the offender in a dramatic manner that feels almost religious. It's not so much that her middle finger goes up, as the others bend down, graceful and strong, a Swan Lake version of the flip-off.  I am dazzled. This woman and her hand gesture should be in the movies.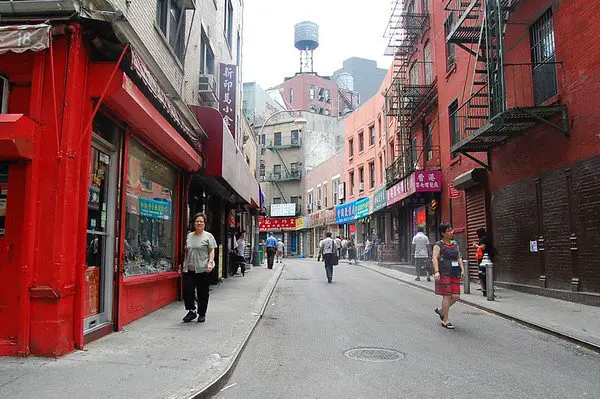 I find it impossible not to think of movies when visiting New York.
Located at the end of Fifth Avenue, Washington Square Park is recognizable to many because of its arch, the defining feature of the Greenwich Village historic district. Long a favorite subject of artists, photographers and filmmakers, the arch was built in 1889 to celebrate the centennial of George Washington's inauguration. In the early 20th century the park was the center of bohemian and intellectual life. In 1917 several of these activists climbed the arch and declared Greenwich Village an independent nation.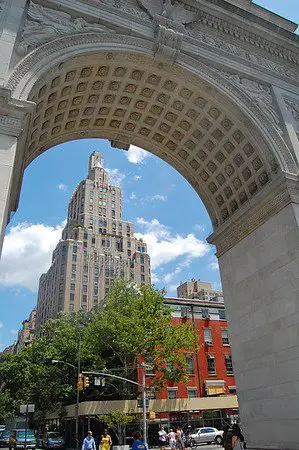 The park also happens to have been an important shooting location for one of my favorite films of the past couple of years, [easyazon_link keywords="August Rush" locale="US" tag="tbelles-20″]August Rush[/easyazon_link]. (Run to your Netflix queue if you haven't seen it.) It is also prominently featured in [easyazon_link keywords="When Harry Met Sally" locale="US" tag="tbelles-20″]When Harry Met Sally[/easyazon_link]. (Sally drops off Harry in front of the arch.)
The park is in the midst of a renovation, which is controversial as it should be. Fighting words are tossed around: gentrification and homogenization versus freedom and diversity. On the afternoon that I spend in the park, I see this balance, and the balance that is struck is fine. I seat myself on a shady bench between two benches where people are sprawled out and asleep. I am in the middle of an Act I. Something is about to happen.
Some of the people here I daresay are looking for trouble. Based on my seating choice, I'm pretty sure I'm  one of them.
"Did you do good hash last night?" one of these people asks the woman we will soon find out is named Sunshine. Sunshine wears a fashionable maxi-dress and combat boots.
"You a professor?" She says examining her questioner, a scrawny man wearing shorts and a tee-shirt. "The way you dress I would give you money."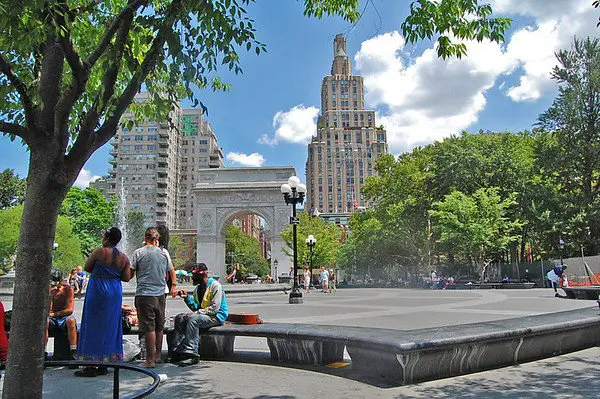 She flings around an open pint of dark liquor, possibly Bacardi. One by one she points to each person and asks if they prefer Diet Coke or Dr. Pepper.  Sunshine leaves presumably to buy Diet Coke and Dr. Pepper. A tall man in a Brooklyn Dodger's jersey now emerges as a character, vocal and loudly dropping a string of F-bombs.
"Did you see what the f*** he said?" (Yes, see what is said) Using his size he swings his body towards the man whom Sunshine believes to be dressed like a professor. "Don't you know who the f*** I am?"
None too soon, Sunshine returns with the soda. Shifting all attention to the matter at hand they pass around the open bottle, mixing their drinks in various cups and bottles. As with the men sleeping on benches as if they were beds, the small group of 5 or 6 possess the space as if they were at home, which I guess for some of them they are. A park security guard reluctantly approaches. He doesn't want to deal with this. The open bottle has disappeared.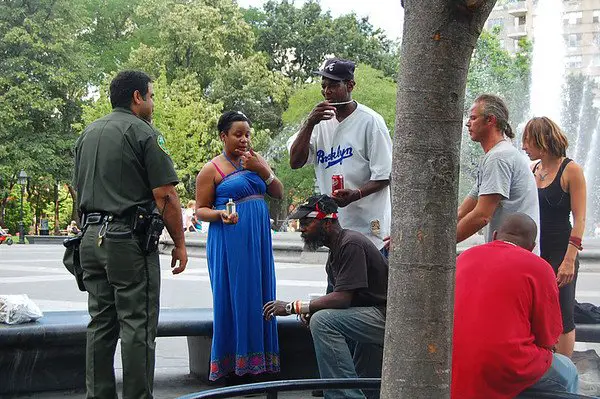 To say the large man in the Brooklyn Dodger's jersey is unfazed by the presence of the Washington Square Park authorities is an understatement. If anything he becomes more animated.
"He's got one more time to say something or I'm going to bust his a**."
Sunshine moves towards him in attempt to calm him down. He waves her off. "You ain't got no a**."  He redirects his attention to the park authority, sits down so he looks up at him and pauses before speaking.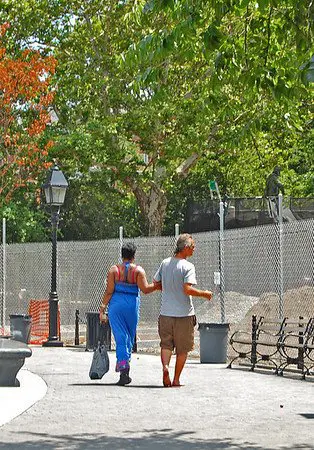 "He got a tissue out of the garbage and put it on her nose!" He gestures towards a trashcan in the distance, then looks down and shakes his head. "That sh** broke my heart." When the officer doesn't react, he stands up and repeats this tale of woe involving a tissue retrieved from a trashcan that broke his heart. This time he puts extra emphasis on "broke my heart."
This party is over. Slowly the group disperses. Sunshine takes the arm of the Professor and escorts him away. I notice for the first time that he is barefoot.
The whole time just steps away from this, a nanny tends to her young charge, a little girl of maybe 3. At any given moment there are several people with arms extended raising cameras and cell phones towards the arch to memorialize their visit to Washington Square Park. I am sad. I am laughing.  I can't or won't wrap my brain around any of it right now. I don't know yet how to take it back to my world of visible boundaries.  There will be time for that later when I'm home.
* My husband asked me if this was all true. Yes, it's exactly how I saw and heard it.
Pin for Later