In northern Italy, a stalky vegetable becomes a dish fit for a king
Italy's Piedmont region is a land of rolling vineyards and great northern wines like Barbaresco and Barolo. The area is rich in foods like chestnuts, chocolate and truffles.
Since I moved here in May to study at the University of Gastronomic Sciences, I have spent a lot of time tasting the key dishes of Piedmont: gnocchi al Castelmagno, potato dumplings covered in smooth, pungent, melted cheese; tajarin, a fine, Fettucine–like pasta made with a high percentage of egg yolk and traditionally paired with butter and sage (sprinkled liberally with Parmegiano Reggiano…talk about comfort food); agnolotti, another egg pasta made so thin they're transparent, little purses filled with a mixture of meats; and carne cruda, the raw beef dish loved by everyone but myself.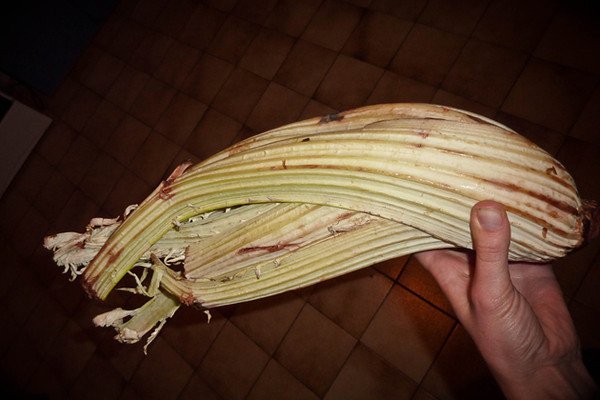 Then one day my culinary curiosity led me to type "cucina di Piemonte" into Google and I suddenly discovered lots of other dishes. I fixated on one that finally explained why vendors, my trusted market vendors, were selling dirty, old celery stalks that weren't even green. But it wasn't celery. It was the cardoon, or cardi, a vegetable that's popular in northern Italy, especially Piedmont.
Cardoons appear dirty because they oxidize quickly and start turning brown, which is why, after cleaning them and stripping off some of the outer, stringy fibers, they should be tossed into an acidulated water bath. I cut them up and did just that as I began preparations for I Cardi di Re Alberto, or King Albert's Cardoons, named for the King of Piedmont and Sardinia (1831-1849) who preferred this recipe for the plant, also known as artichoke thistle.
I was overcome with both doubt and surprise while preparing the recipe. The flavors are different from other Italian dishes – or maybe just combined in unusual ways. Anchovies, bay, butter, cinnamon and nutmeg? I only followed through because they had graced the plate of royalty upon his own request. I also love a challenge in the kitchen and to my taste buds. And when the (rather lengthy) process for this vegetable dish was finally complete, my first bite was hesitant and then, disappointed.
But with each bite, the savory-sweet-celery-artichoke-creamy flavor built until I ate nearly a pound of cardoons in one sitting. King Carlo Alberto certainly knew his food.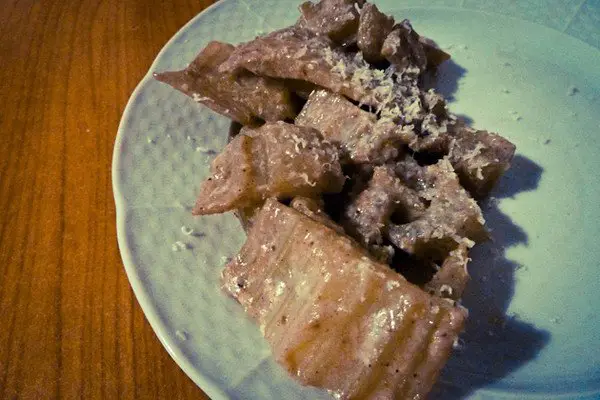 King Albert's Cardoons (

I Cardi di Re Alberto)
Ingredients:
1 pound cardoons
2 cups milk
2 tbsp flour
2 tbsp butter (or substitute oil)
1 clove garlic, peeled
2-3 bay leaves
5-8 anchovies
Pepper, salt, nutmeg, cinnamon
Parmegiano Reggiano (parmesan cheese)
Instructions
Wash and strip the tough outer fibers from the cardoons. Cut them into 1-to-3 inch pieces and drop them in lightly-acidulated water as they're prepared to keep them from browning.
Boil the cardoons in a mix of 2 cups of milk and 2 cups of water with 1 tablespoon of flour until halfway done, about 15 to 20 minutes.
As the cardoons are cooking, melt butter in a large skillet, squash the garlic to release juices, and tear up the bay leaf. Ladle the cardoons into the skillet and reserve the milk mixture. Cook over a medium flame until tender, about 10 to 15 minutes.
While the cardoons are cooking, bone the anchovies and add to the skillet (5 to 8 depending on how savory you want the dish). Squish them into the sauce with a fork until dissolved, adding more of the milk mixture or plain water if the cardoons become dry.
Add more butter to taste and a mix of the spices. Stir until browned and tender. Top with Parmegiano Reggiano, and give the cardoons a second or third taste before their flavor takes hold of your taste buds and doesn't let go.
Pin for Later