From Hawa Mahal to the lively bazaars, palaces and forts, Jaipur, the capital of Rajasthan in northern India, has everything a travel belle could imagine and more.
Driving through Gopinath Marg Gate in the middle of Diwali is a feat in itself. The street is ornamented by strings of fairy lights and marigold chains, and people are swarming the bazaars in search of the freshest fruit, vegetables and flowers in readiness for celebrations.
It's a glorious sight, over-towered by the mesmerizing Hawa Mahal.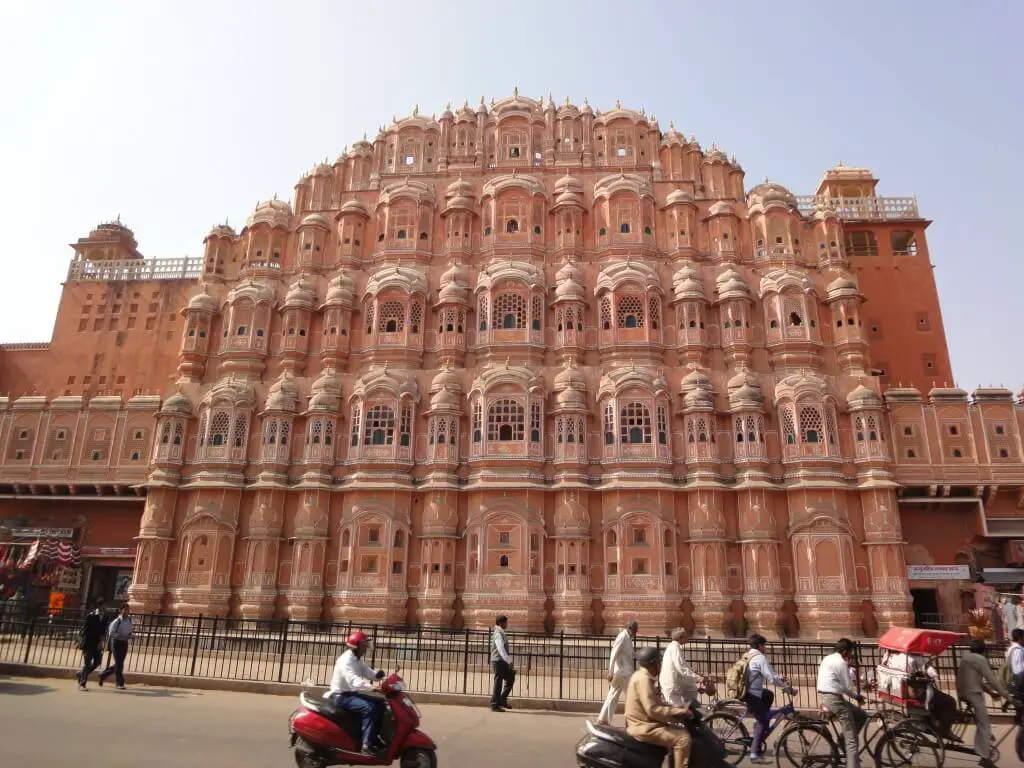 This "palace of the winds" anoints Jaipur's beauty and gives it the nickname the "Pink City". Hawa Mahal, built in 1799 by Maharaja Sawai Pratap Singh, is coloured by its intense pink sandstone bricks that illuminate the street and take visitors by surprise. The honeycombed, high screen wall of windows that visitors encounter was built in such a way that royal women could observe the festivities in the street without being seen from the outside.
From Hawa Mahal to the lively bazaars, palaces and forts, Jaipur, the capital of Rajasthan in northern India, has everything a travel belle could imagine and more. Jaipur is not only a hospitable and welcoming city, it's a bustling one with clean streets, a rich royal history, elaborate attractions and sights at every turn.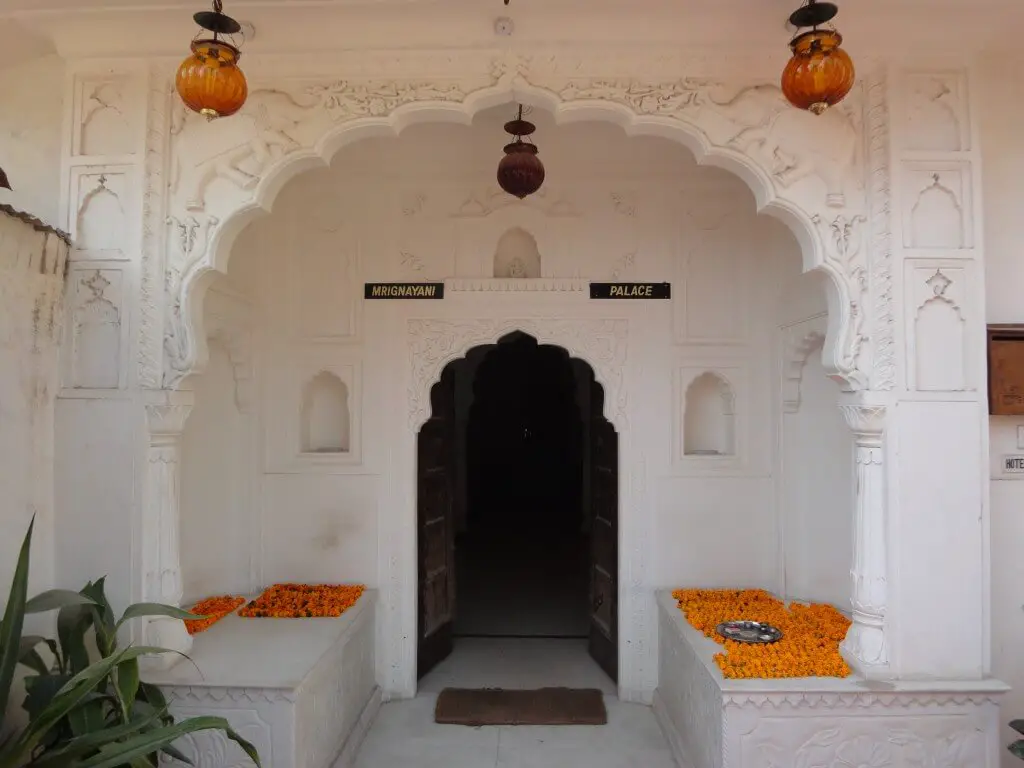 Where to Stay
Rawla Mrignayani Palace is a gorgeous heritage boutique hotel that's situated about a 20-minute walk from the main street and sights of Jaipur. It's also here where you can be treated to Rajasthan's famous hospitality. Upon arrival hostesses drape chains of marigolds around your neck and shower you in flower petals before dotting your temple with a red tikka.
This restored 300 year-old haveli, or home, is a rabbit warren of traditional Rajasthan architecture and leadlight windows; stunning prints, handicrafts and Ottoman furnishings adorn the interiors. There are plenty of break-out rooms and courtyards to retreat to for light reading, relaxation and chai-sipping too.
You may also like: Things To Do In Varanasi – Quick Guide To India's Spiritual Capital
Enjoy a buffet breakfast on the upper most courtyard in the early hours so you can listen to the city begin its busy day. For INR170, indulge in a cooked breakfast, fruit and masala tea. Partake in a walk into town so you can see daily Jaipur life in action, or load into an auto-rickshaw for a quicker one-way trip costing around INR150. Just make sure you agree on the price and destination with your driver first before you begin your journey.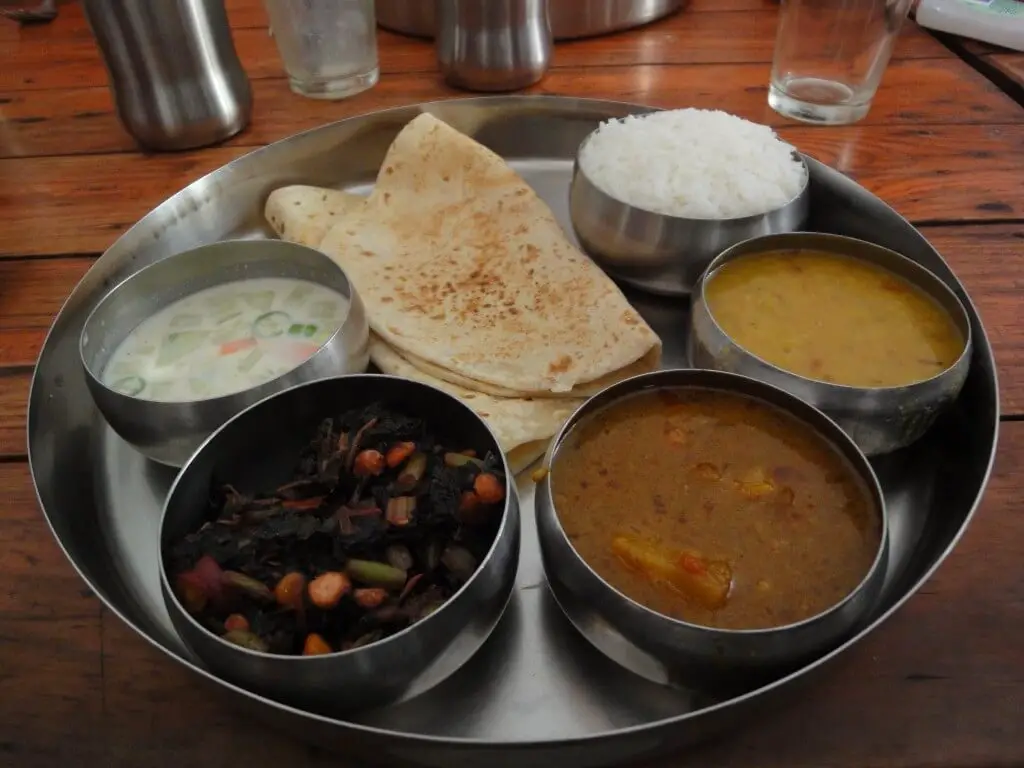 Where to Eat
Surya Mahal Restaurant is one of Jaipur's oldest restaurants. Years of dedication to delicious northern Indian flavours have attracted a strong local clientele. Surya Mahal offers comfortable dining for breakfast, lunch and dinner.
For a quick, cheap and tasty lunch, try a traditional thali, a big plate of dainty bowls filled with specialty dishes like dal, rice, vegetables, chutneys and pickles that can be all mopped up with a rotund round of roti freshly baked onsite. Or, try a big bowl of mustard leaf spinach with roti or rice and wash it all down with a refreshing glass of freshly squeezed, sweet lime juice.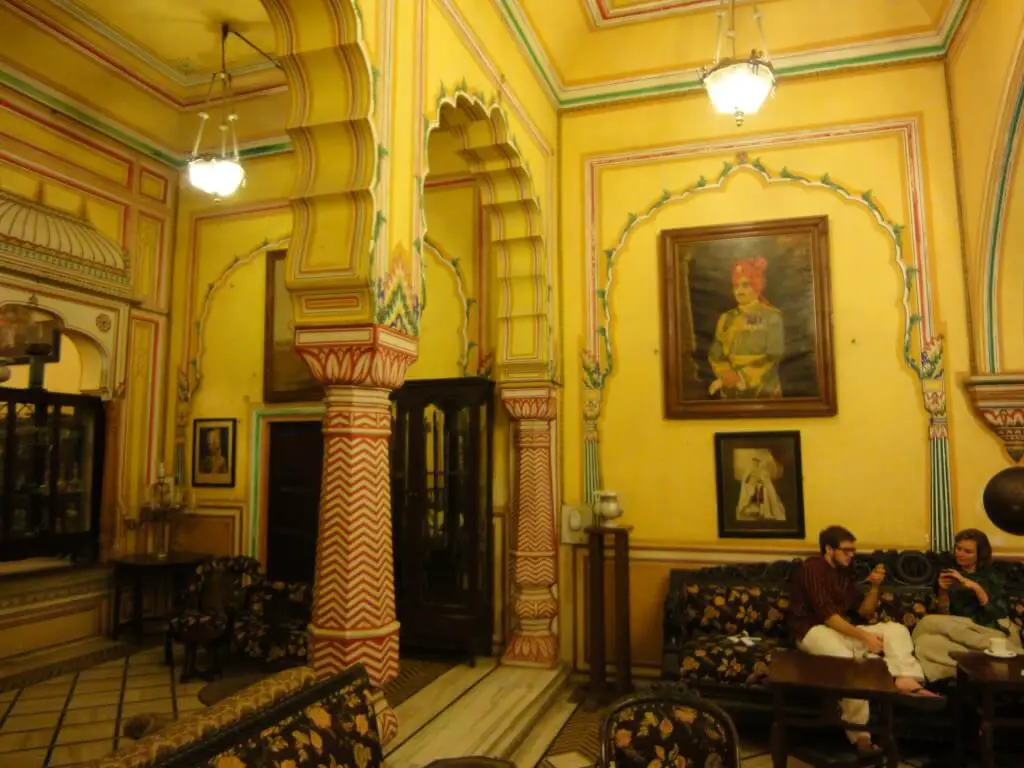 For a little fun and fame, why not enjoy a luxurious meal under the stars at Kanota Fort? The fort is best known as the Viceroy Club, the expat hang-out in the movie The Best Exotic Marigold Hotel. Hearty curries and Rajasthan delicacies can be enjoyed in an al a carte setting in the garden over bottles of Kingfisher beer while you're treated to traditional tribal dancing and puppet demonstrations. After dinner, you can score a cheeky sneak-peek inside the famed colonial club.
You may also like: Udaipur, India: Venice of the East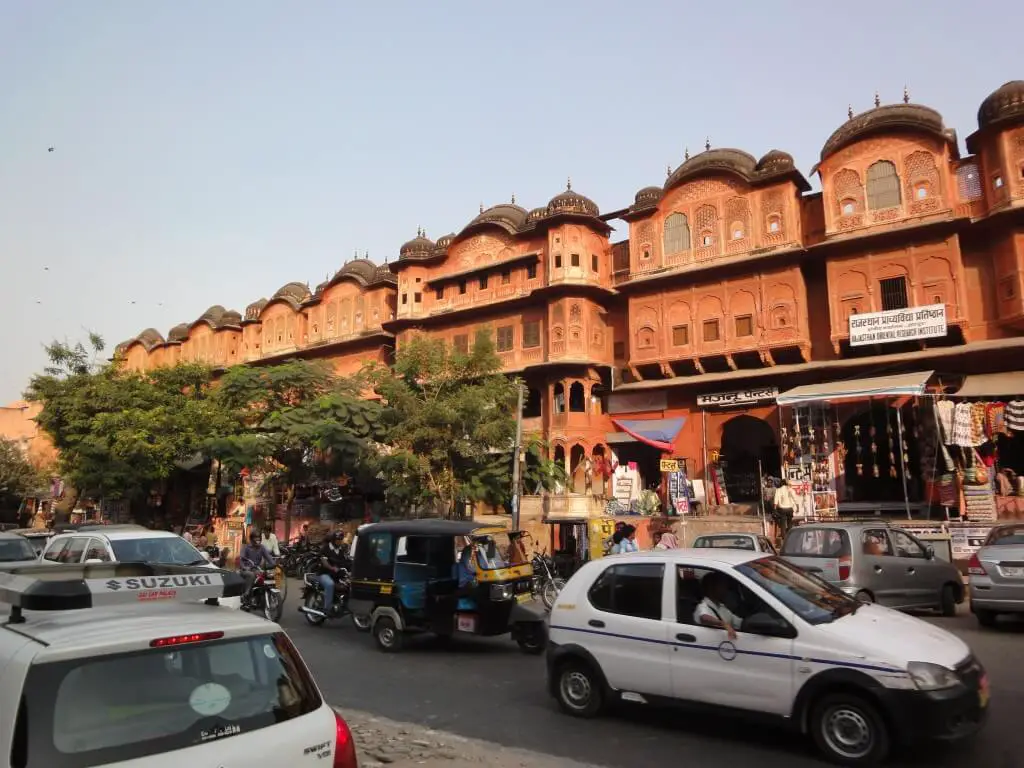 Where to Shop
Diamonds are a girl's best friend and it's in a girl's best interest to buy the real deal. Avoid potential scams and fake stones by heading straight to Ratnavali Arts. Precious gems and stones are sold here, all set in stunning pieces of jewellery. This is where a girl can treat herself to a new and unique statement piece that will be envied by her friends back home.
A fine silver bracelet, lined in white gold and encrusted in a rainbow of sapphires can be snapped up for about INR15,000. 'B' grade gemstone necklaces can also be purchased for gifts, starting at around INR200. Unlike the street shopping in Jaipur, there's little to no room for bartering at Ratnavali Arts but you are guaranteed that you're buying genuine stones. Ensure you receive a certificate of authenticity before you hand over your money.
For authentic northern Indian block print clothes and haberdashery, make a visit to Satguru's Textile World. This is the destination where the locals come to complete important wedding shopping and where you can purchase one-off block printed clothing. Block printing involves printing fabrics by hand with wooden blocks carved with intricate patterns.
Vegetable dyes are used to create a stunning array of colourful clothing and manchester. Fine quality clothes can also be made to order at decent prices and turnaround can be within as little as eight hours (depending on the clothing and quantities you order). The tailoring here is to be commended and your orders can be delivered to your hotel or sent home at an additional cost.
More shopping can be found in the nearby bazaars along Gopinath Marg Gate where embroided bags, saris, puppets, handicrafts and delicious Indian sweets can be purchased at good prices. If buying block print clothing and fabrics in the bazaars, ask if vegetable dyes have been used as chemical dyes fade and your prized purchase won't last as long.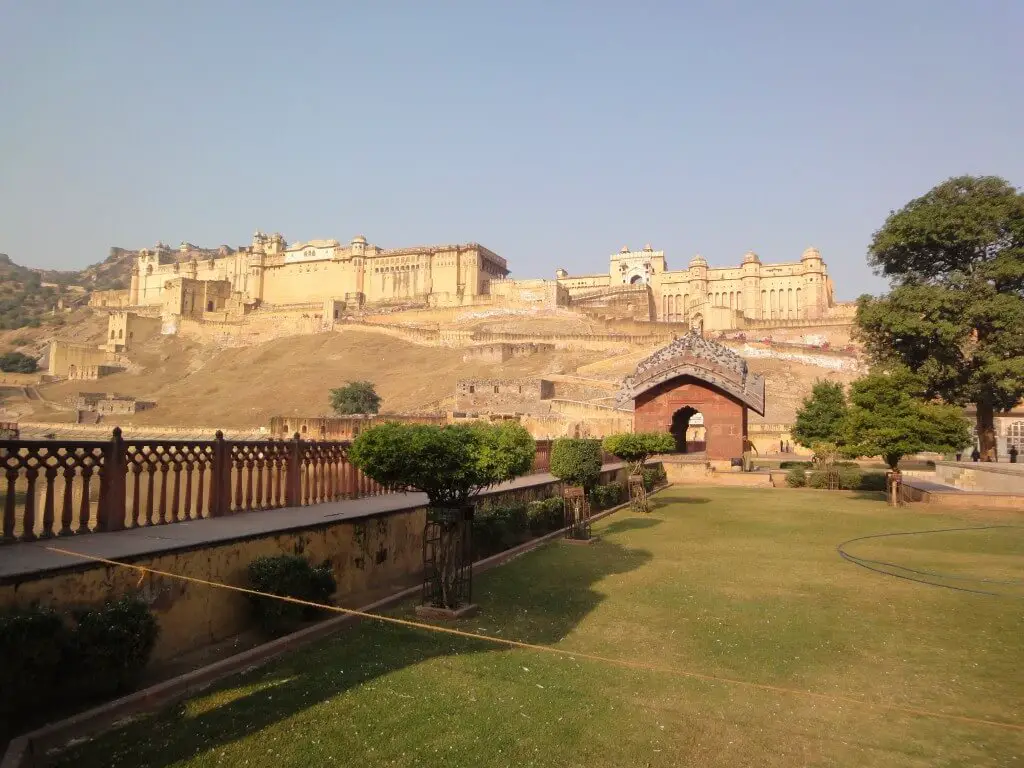 Where to sight-see
Hawa Mahal is first and foremost on the list. For INR300 you can gain access to the palace, as well as the adjoining City Place, gallery, textile and weaponry museum. The complex is a luxurious one, and the opulence demanded by Maharaja Sawai Man Singh II back in the 1700s is conveyed within these walls, in particular in the Armoury and Sabha Niwas (assembly hall). The complex is signed with enough information so you don't need a guide. Your pass also gives you access to Jaigarh Fort within a week of the ticket's date of issue.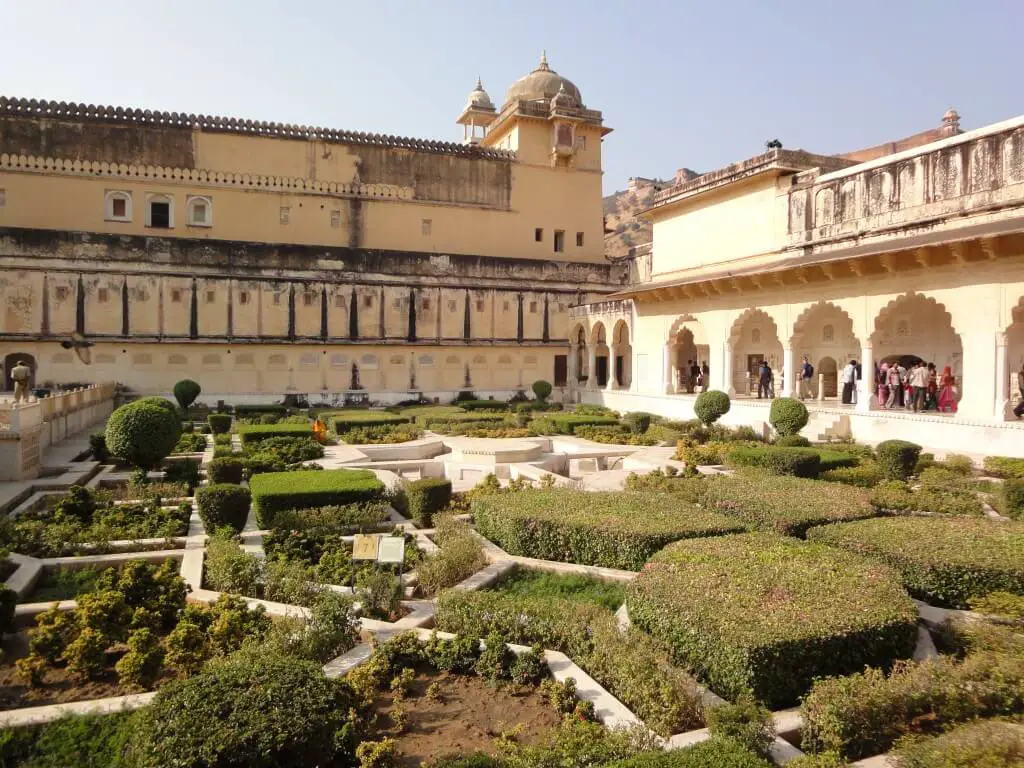 Amber Amer, or Amer Fort, is located just out of town in Amer. The artistic allure and Hindu style of Amber Amer are best experienced during the earlier, cooler hours of the day. As you wander up the dusty ramps, be serenaded by local musicians beating a nagara and blowing a sweet whistle from a babya.
Decorated elephants suddenly grace the court square as if on cue to re-enact a Maharaja's procession. Though, those times of Maharaja rule in this region is when the elephants should've remained.
Nowadays, the elephants are exploited for tourist dollars are often mistreated cruelly. Avoid taking an elephant ride for this reason; the walk is much more enjoyable and responsible.
Take your time to wander the palace's four levels through to historic gems such as Mirror Palace, and take in views of the 14-kilometre fortress wall snaking along the forested hills nearby.
*All prices provided by the author and subject to change.