You've decided to go on an expedition cruise, but you're not quite sure where you should go. There are so many options to choose from, and they all sound amazing, right?
Let's look at the top 5 expedition destinations, and perhaps one of these cruises will blow your mind.
Antarctica – via Falklands and South Georgia Islands
With its wild seas and a seemingly untouched, frozen landscape, Antarctica is the ultimate expedition destination.
While there are several Antarctica cruises, the Falklands and South Georgia Islands Cruise is by far the best way to see this stunning landscape. This route usually lasts around 20 days, so it is longer than the standard routes and costs an average of $10,500.
Wildlife is particularly abundant at the Georgia Islands and Falklands, with thriving penguin and seal colonies.
Activities: kayaking, scuba diving, skiing, camping, and climbing.
Alaska – Inside Passage Round-Trip
This Alaska Cruise is likely the most popular, due to the amazing sights and activities. The cruise lasts about 7 days and usually takes place from March to September. This expedition cruise is priced from $3,000 and up.
For the first and last part of the cruise, you will be traveling along the British Columbian Coastline. The main cruises usually depart from Seattle or Vancouver, and visit the ports of Glacier Bay, Juneau, Skagway and Ketchikan (and possibly others), over a 4-day period, before returning up the coastline.
Wildlife: whales, seals, dolphins, black bears, brown bears, sea otters, wolves, and moose.
Activities: wildlife watching, snorkeling, kayaking, hiking, dog sledding, land tours, fishing, and seaplane tours.
Arctic – Northern Lights Cruise
Is there any sight more magical than the Northern Lights? The best time to see this fantastical natural event is from September to March (winter) between 10pm and 2am.
The most popular route is the Coastal Norway Cruise. This cruise lasts roughly 12 days and stops at multiple ports. Besides the Northern Lights, you will also be confronted with 100 stunning fjords and 1,000 breath-taking mountains. Priced from $1,300.
Another option is the cruise that will take you through Iceland, Greenland, and Spitsbergen. This cruise is perfect for those who can't decide on which Arctic destination they want to see most. Unfortunately, this cruise only sets sail once (in September) and lasts roughly 15 days. Priced from $7,900.
Activities: Dog sledding, wildlife viewing (you may even see some Polar bears), kayaking, and hiking.
South America – Patagonia Cruise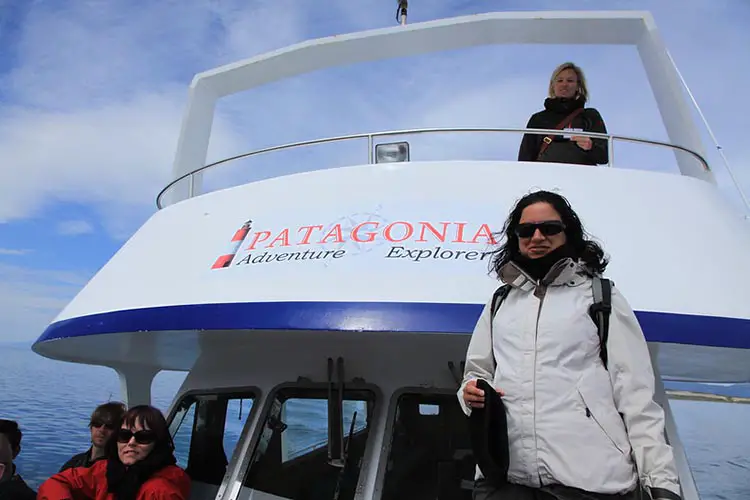 If you choose a Patagonia Cruise, be prepared for remote channels, magnificent fjords, and great wildlife. You can choose a cruise itinerary of between 5 – 14 days (possibly longer).
You'll get to see Cape Horn, Pia Glacier, Wulaia Bay, and Tuckers Islets with over 4,000 penguins. While you won't be able to go on land at Tuckers Islets, the ship will get close enough to see these fascinating creatures!
The price starts at around $1,400 and increases, depending on the itinerary length, ship type, and cabin type.
Wildlife: foxes, puma, whales, dolphins, seals, a variety of birds, and more.
Activities: wildlife watching and photography. But if you are feeling adventurous still, try a Patagonia trek while you are there.
South Pacific Islands – Easter Island
Did you know that this is one of the most remote places in the world? It also holds the world's largest open-air museum.
While there are no cruises that are specific to Easter Island, many of the South Pacific cruises include a stop here on their itineraries.
The Tahiti Cruise is the most popular cruise used to get to Easter Island. It visits several islands such as Pitcairn and Henderson, before reaching Easter Island. Priced from $7,500 – $20,000.
Another option would be a Chile Cruise. You could depart from Santiago (18 nights – from $7,000) or take a longer cruise from Rio De Janeiro (38 nights – from $14,000). However, these are not round-trips and usually end in Tahiti, where you will have to take a flight to your next destination.
Activities: kayaking, surfing, diving (registered, experienced divers only), mountain biking, horse riding, and hiking.
Adventure cruises are, by their nature, filled with excitement and challenges – with a hint of danger. It is that hint of danger that requires you to have travel insurance for your trip, especially if you are venturing into remote locations.
Be smart, stay safe, and have fun!
Pin For Later