Have you found yourself in the Eternal City without any reading material to pass the time between meals and sightseeing?
Or maybe you're like me and don't live in an English-speaking (or reading) country and must get your Lit hits in foreign cities.
Well, here are some English bookstore suggestions for Rome.
1. Open Door Bookshop
Located behind Viale Trastevere, at Via della Lungharetta, 23, (open in Google Maps) the long-time family-run, independent, second-hand (another adjective, please?)
Open Door Bookshop is a delight for any bibliophile or someone just wanting to grab a quick read. Browse through the tilting stacks of books that have been loved and passed on. This bookshop is honored to hold the title of the only used English bookshop in Rome. The fiction selection rotates frequently, so I never leave without a book I'm eager to read. There's also a good Rome and Italy interest section by the desk.
You may also like: Best Books to Read Before Or During Your Visit to Rome
2. Almost Corner Bookshop
Also in Trastevere, on Via del Moro, 45 (Google Maps) — the small cobblestone road that runs nearly straight between Piazza Trilussa and Piazza Santa Maria in Trastevere — is another independent bookshop stocked with ever tempting books to read. Whereas the Open Door has only used books, the Almost Corner deals in new and does a pretty good job at keeping atop the incoming tides of contemporary fiction. There are also sturdy classics, non-fiction and mysteries sections.
You may also like The Best Pizza in Rome!
3. Anglo American Bookshop
This bookshop can be found near the heart of Rome's centro storico, or historic center. The location between the Spanish Steps and Via del Corso is what I love best about the Anglo American Bookshop (Via della Vite, 102). I often dive inside for respite from the chaotic streets. Also larger than the two already listed, the Anglo American Book Co. has books to satisfy nearly any craving. There is a wall of black Penguin classics that is a marvel.
You may also like: Five Books To Read For Rome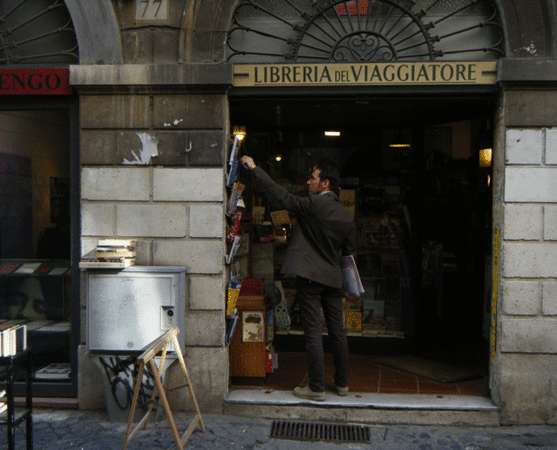 4. Libreria del Viaggiatore
Translated as "Bookshop of the Traveler," this lovely, small shop near Campo dei Fiori at Via del Pellegrino, 165, packs in mostly Italian titles and also some English ones. Organized by country, the shelves allow you to travel around the world through guidebooks (many in English), essays, photo books, fiction and travel writing. There is also a section about travel in Italy, mostly in English, to the right of the door when you walk in.
You may also like: 6 Must See Literary Spots in Rome!
5. La Feltrinelli
La Feltrinelli is Italy's big chain bookstore. Just off of Piazza Republica, near the Termini Station, is La Feltrinelli International (Via Vittorio Emanuele Orlando, 84/86). It is a large multilingual bookshop that stocks most any kind of book one could want. The inside of the store is bland, but I can't deny how rewarding it is to find just the book I'm looking for. There is also a good English section at La Feltrinelli on Largo Argentina (Largo di Torre Argentina, 5/A). This branch is more lively and is always filled with light. It makes for a quick and easy browse before catching the bus or tram.
You may also like: 5 Best Picnic Locations in Rome (and where to buy the food)
Pin For Later