Asheville, North Carolina is where arts & culture meets Southern charm. The artsy vibe can be felt throughout the city but you still get the Southern hospitality that everyone has come to expect.
Downtown you'll find an abundance of art galleries, restaurants with James-Beard award-winning (and even more nominated) chefs, and breweries galore. It didn't win Beer City USA four times in a row for nothing.
And who could forget about the largest home in the USA? The Biltmore Estate is located near downtown Asheville and offers more than just tours of the incredible mansion. There is a garden and greenhouse, lots of hiking trails, plus Antler Hill Village with shopping options and the Biltmore Winery.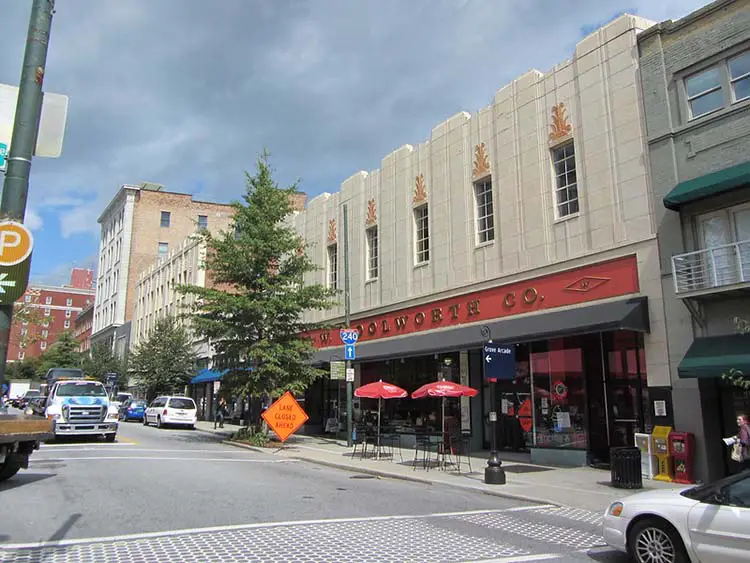 In the River Arts District, you'll find even more breweries and art galleries but housed in historic industrial buildings with eclectic street art. This neighborhood is located right by the French Broad River which is the perfect place to kayak or stand up paddleboard on your trip.
In addition to river activities, Asheville also offers many other options for outdoor fun as it's in the heart of the Blue Ridge Mountains. Hiking, mountain biking, fishing, whitewater rafting, you name it and Asheville has it.
If you visit this city once, you won't be able to stay away for long.
Asheville's Coolest Hotels
Omni Grove Park Inn – Historic Luxury Resort With Grand Spa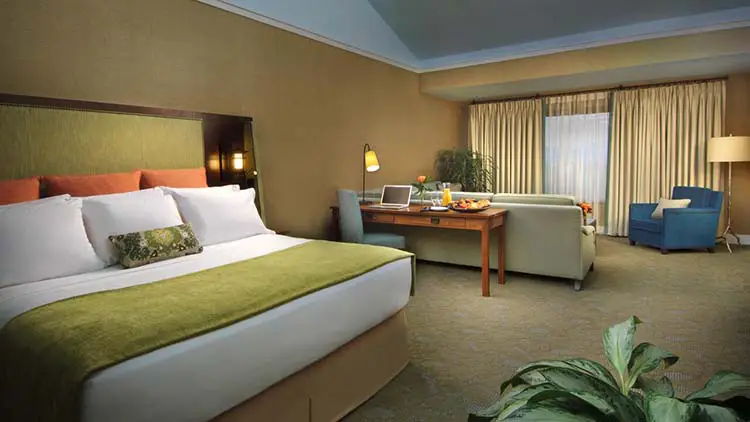 This century-old resort just outside of downtown Asheville offers the ultimate luxury experience. The spa is the real draw here as it was voted one of the top resort spas in the US according to Condé Nast Traveler. Included in the spa pass are multiple different types of pools like relaxation and contrast pools.
There are also hiking trails on-site and guided history tours of the resort on select days of the week. Another unique tour is the Wild Food Foraging Tour where a guide leads you in foraging for safe food to eat, then the chef will prepare an appetizer for you when you return. Be sure to check out the Sunset Terrace for beautiful views of the Blue Ridge and Elaine's Piano Bar for entertainment.
The Inn on Biltmore Estate – Service & Hospitality from the Vanderbilt's Era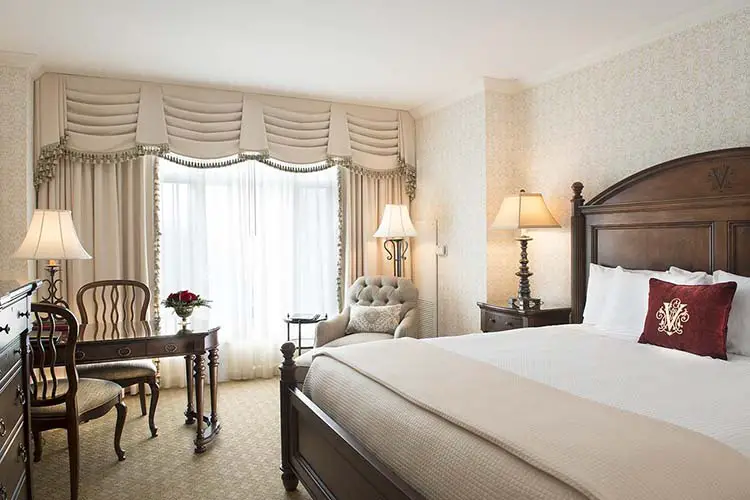 The Inn is located up on a hill just a short walk from Antler Hill Village at the Biltmore Estate with gorgeous mountain views. You receive full access to the Biltmore gardens and grounds plus the Village and Winery for the length of your stay.
A complimentary shuttle will take you anywhere you'd like on the property and they also have a shuttle that will take you downtown on Fridays and Saturdays. The rooms are decorated with the elegance of the Biltmore in mind and the welcoming staff will make sure you feel like a queen during your stay.
Grand Bohemian Hotel – The Starting Point for Outdoor Adventure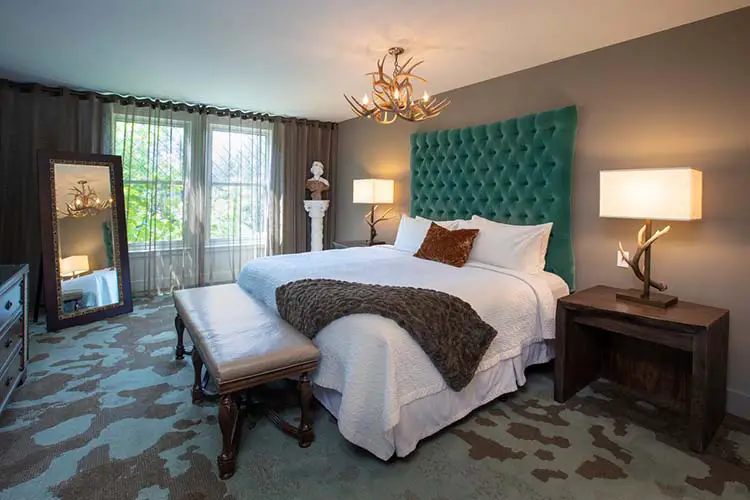 Right outside of Biltmore Village this boutique hotel is in the perfect location for outdoor exploration. In 15 minutes you can be on the Blue Ridge Parkway or in Pisgah National Forest. After a day of fun outside you can return to a fine dining experience at the Red Stag Grill and the boutique Black Forest Wine Room.
There is also an art gallery on-site that features many local artists as well as national and international pieces. That isn't the only shopping available. The Biltmore Village is a popular shopping destination in Asheville and features many fantastic dining options as well.
Windsor Boutique Hotel – Luxury Suites in the Heart of Downtown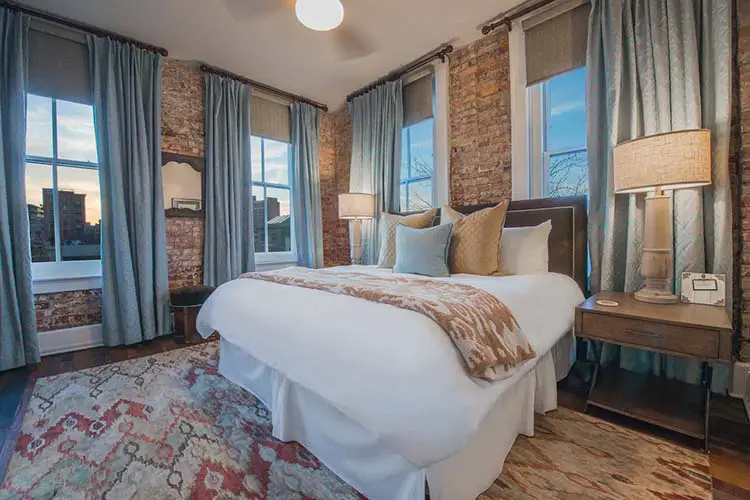 Each suite in this property offers unique decor, a full kitchen, living room, and washer/dryer. What more do you need to feel at home? If you do happen to need more, the friendly staff are there to help you and provide wonderful recommendations for exploring the city.
The real advantage of this hotel is staying right in the middle of the food and beer scene. Walk out the front door and you have a myriad of choices when it comes to dining. This is where the staff's recommendations really come in handy.
Haywood Park Hotel – Large Rooms in the Battery Hill Neighborhood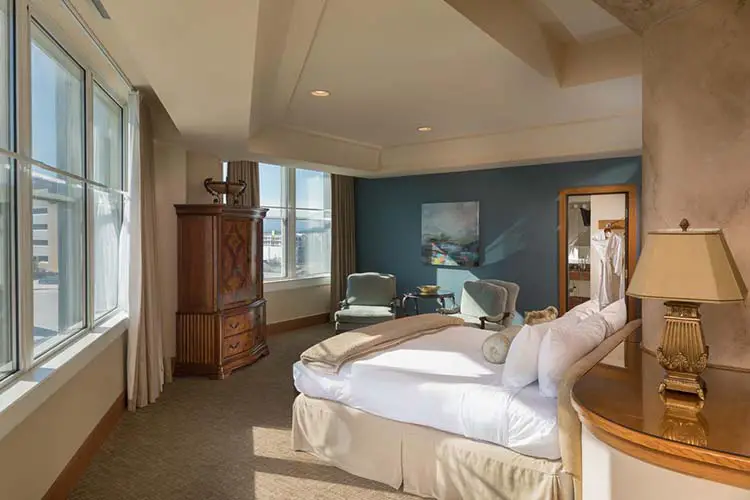 The building that Haywood Park is housed in began as the first department store in Asheville in 1925. In 1937 another department store moved in and finally, it became Haywood Park Hotel in 1985. Exhibits in the hotel pay tribute to the building's beginnings.
A stay at the Haywood means you are steps away from Asheville's nightlife scene and live entertainment in the Battery Hill neighborhood. A few perks of staying here are a glass of champagne on arrival and nightly turndown service with treats from The Chocolate Fetish.
Cedar Crest Inn – Romantic Bed & Breakfast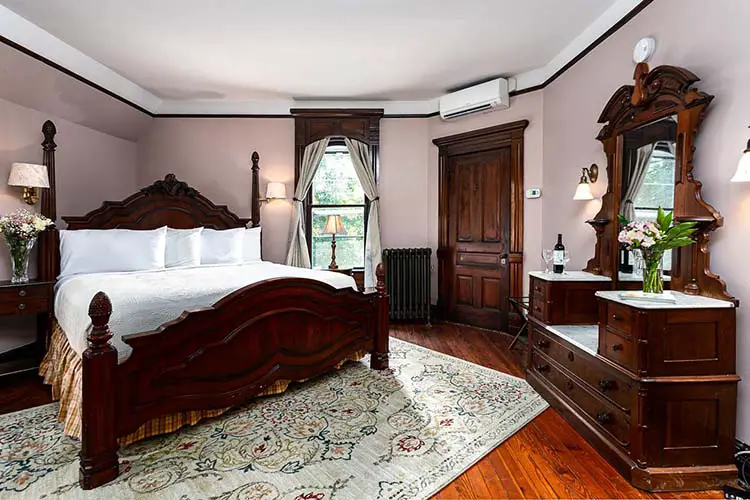 This charming B&B near the River Arts District offers guest rooms in the Main Inn plus detached Cottage and Carriage Houses. Built-in the 1890s these accommodations offer a historic feel with all the amenities of current times.
A two-course breakfast will greet you each morning and in the evening, Cedar Crest offers a free wine reception. Coffee, tea, and cookies are also offered each day. The welcoming sitting areas and porches are wonderful places to relax and enjoy the property, but you are also very close to all the action Asheville has to offer like Biltmore, River Arts District, and Downtown.
The Foundry Hotel – Renovated Steel Factory with Industrial Feel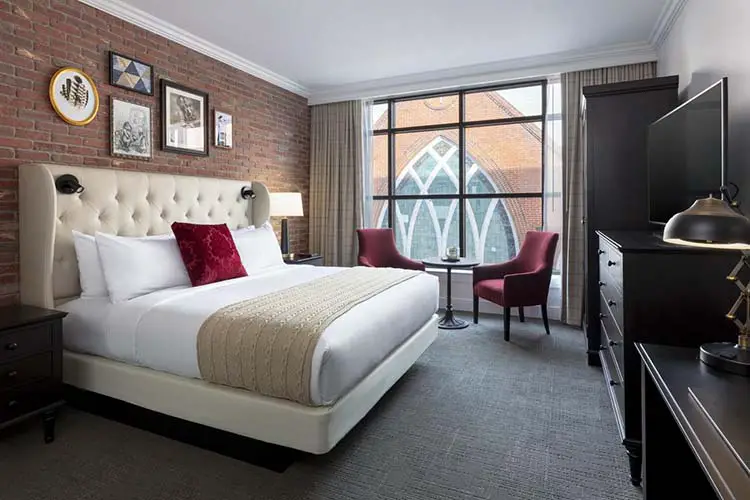 The Foundry Hotel is located in what was originally Asheville Foundry & Supply Co. which provided steel for buildings like the Biltmore Estate. The unique history is preserved with artifacts from the original Foundry and a deliberate architectural design showcasing many historic features of the building.
Relax on the bocce lawn or around the fire pits in rocking chairs. If you work up an appetite, Benne on Eagle serves Appalachian-inspired cuisine. Though it may not feel like it while you're at the hotel you are a quick stroll away from all downtown Asheville has to offer.
The Applewood Manor – New England Style Colonial Bed & Breakfast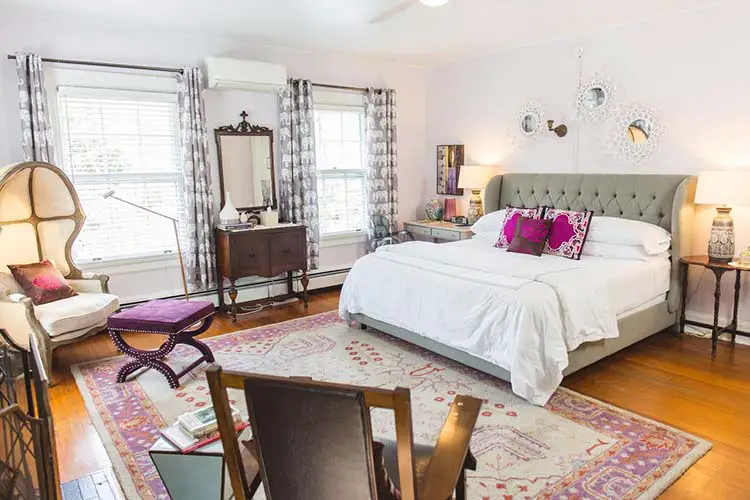 At over 100 years old, this Colonial Style Cottage will appeal to all the history lovers. The special part of this B&B is the three-course breakfast you get each morning. Much of the food is sourced from the gardens right on the grounds and you are welcome to tour them anytime.
Located in the historic Montford District of Asheville it is about a 25-minute walk from downtown or a quick Uber ride. The Innkeepers truly make this a special place to stay as the hospitality that they extend is unmatched.
The Princess Anne Hotel – Historic Hotel on the Outskirts of Downtown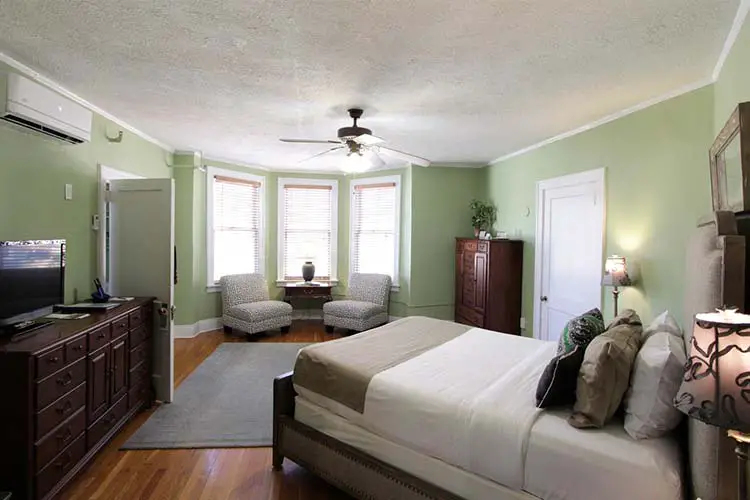 According to their website, the Princess Anne Hotel provides "the charm of a bed & breakfast with the privacy of a hotel." Located in the quiet neighborhood of Chestnut Hill, also known as Grove Park, this beautiful hotel offers a full breakfast and complimentary wine & hors d'oeuvres in the afternoon.
The rooms are comfortable with extra plush blankets and terry cloth bathrobes. A kitchenette and sitting area also allow you to have a romantic night in if you prefer. In warmer months you can relax in the private garden in front of a gorgeous water fountain.
Black Walnut Bed & Breakfast Inn – B&B Built by Famous Architect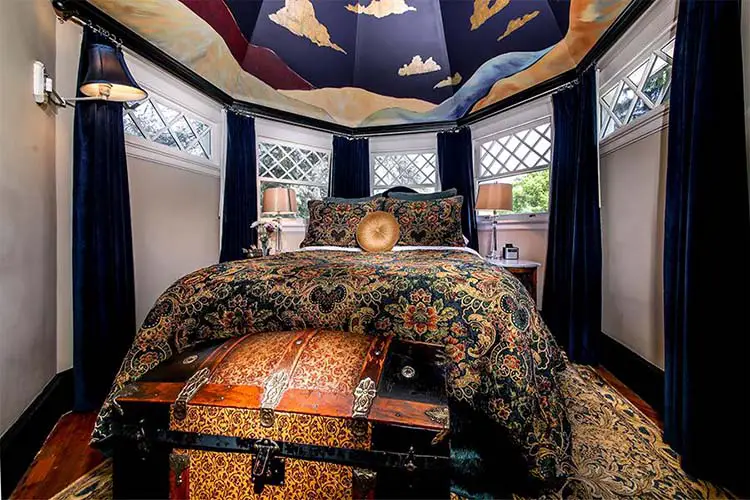 Each of the eight rooms at this B&B is elegantly and individually decorated. The supervising architect for the Biltmore Estate was the same architect that designed this gorgeous house. The delicious breakfast is sure to impress anyone with such a large spread and be sure not to miss afternoon tea.
There are a few unique upgrades you can choose from like the cookies & milk turndown, picnic basket, or a romance package! It's located in the quaint residential neighborhood of Montford but only a half-mile from downtown and a quick drive to the Blue Ridge Parkway or Biltmore Village.
The Pines Cottages – Rustic Cottages & Log Cabins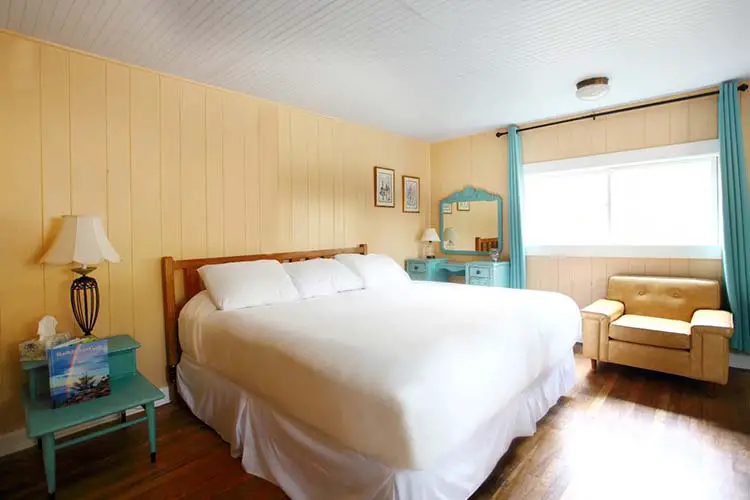 These adorable cottages offer private bathrooms and full kitchens in each unit and some come with a wood-burning fireplace. The cabins and cottages are on 4.5 acres that you can explore and the property is dog-friendly which can be tough to find in Asheville. You'll be away from the hustle & bustle of the city but a quick 10-minute drive will bring you downtown.
If you're looking for a laid back vacation then this is the place to go. It's also near the small town of Weaverville that is worth a day of exploring. Though the rooms aren't luxurious, you'll be sure to appreciate the unique touches in this family-owned business.
Bunn House Hotel – Small Modern Boutique Hotel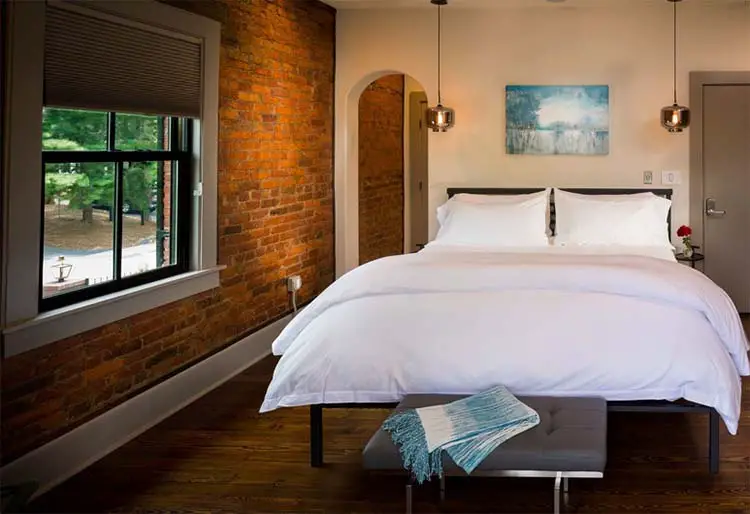 Complimentary beer and wine are waiting for you in the mini-fridge. Need I say more? A fireplace and picnic tables outside are the perfect spots to relax after a day of sight-seeing or bring a blanket to spread out on the lawn for a nice picnic.
A small rooftop terrace provides an incredible view of the Asheville skyline as the hotel is located only two blocks away from downtown. There is a common sitting area and a light breakfast is served each morning.
1889 WhiteGate Inn & Cottage – An Inn for the Poets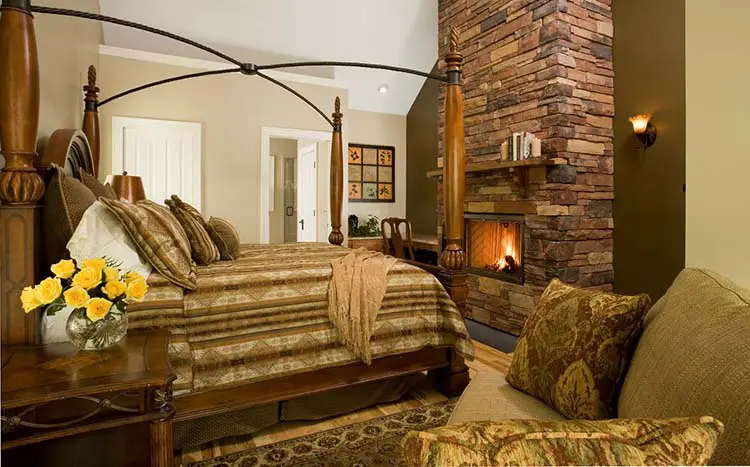 This beautiful Inn is the closest B&B to downtown and each room is named for a different poet. Most of the rooms have fireplaces and some have romantic  2-person jacuzzi tubs. A three-course breakfast is served each morning in the dining room and there are three different sitting areas in the house.
Wander through the paths in their award-winning garden and get lost among the flowers. If you need to relax they also have a spa onsite where you can get massages or facials. Step outside the doors of the Inn and you are right in the middle of the downtown action but each night you have a quiet spot to return to!
Hotel Indigo Downtown Asheville – Perfect Downtown Spot for the Budget Conscious Traveler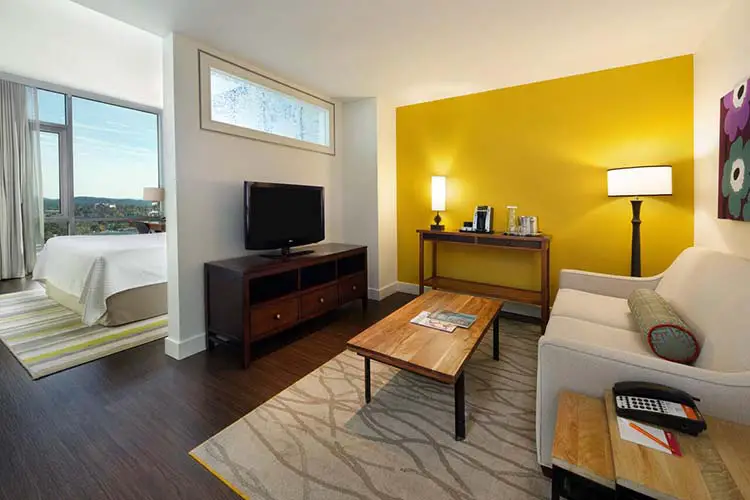 Many of these boutique hotels listed are on the luxury end of the spectrum. Hotel Indigo is the perfect place to stay when you want to stay downtown but need to stick to a budget. With beautiful views of the Blue Ridge Mountains and clean, colorful rooms you'll still feel like a queen if you stay here.
The restaurant and bar onsite sell small bites and drinks as a great place to start your night out. In the heart of downtown, you'll be within walking distance of all the breweries, restaurants, and local art galleries.
Albemarle Inn – Greek Revival Style Bed & Breakfast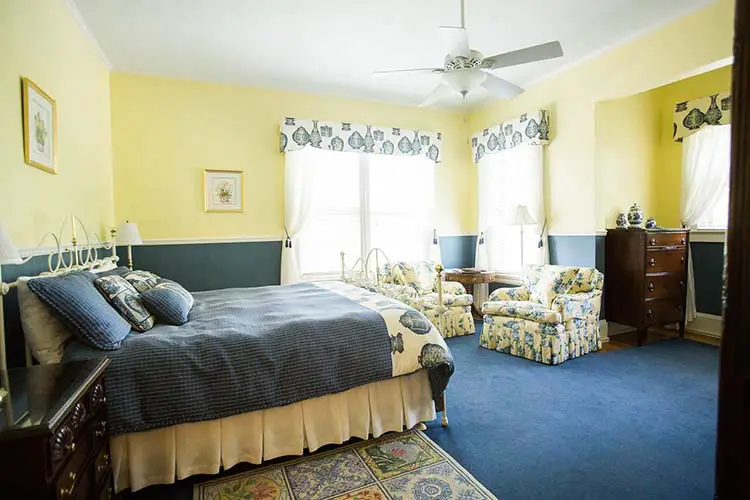 This mansion built in Classic Greek Revival style back in 1909 will make you feel like royalty for sure. Located about two miles north of downtown in a residential neighborhood it's a beautiful spot for morning or evening walks. The Innkeepers are originally from Italy and bring their European Style to the Inn.
The beautiful gardens, full breakfast, and weekend refreshments enhance your stay at this gorgeous location. Most guests truly enjoy the breakfast as Rosemary (the Innkeeper) has won multiple awards for her cooking & baking skills. One was for her apple pie! Simon the cat is another popular fixture here that you'll see often.
About: Anna is a travel blogger based in North Carolina who helps busy women take advantage of every moment given off work. She loves packing as much as she can into a short itinerary and making the most of any vacation. You can find more of her work at her blog, Stuck On The Go.
Social Links: Instagram – Facebook – Twitter – Pinterest
Featured Image by anoldent
Pin for Later