Stopping at a more than charming inn for a short San Jose del Cabo vacation following our Sea of Cortez Un-Cruise
In some ways, travel is a lot like love.
From Alfred Lord Tennyson's poem In Memoriam:27, 1850:
I hold it true, whate'er befall;
I feel it, when I sorrow most;
'Tis better to have loved and lost
Than never to have loved at all.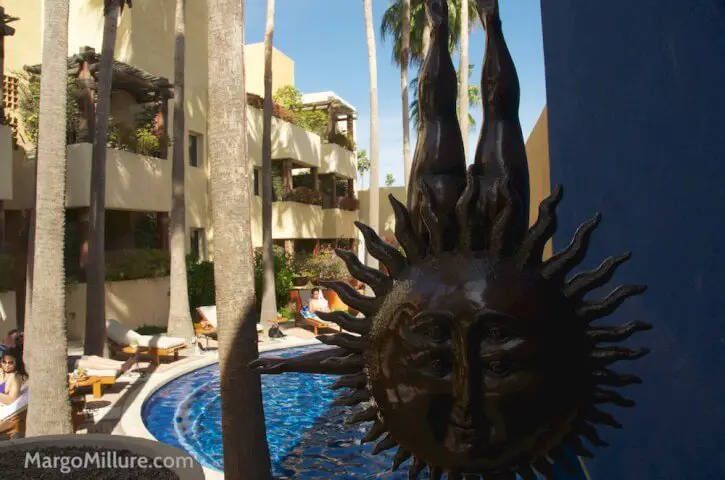 In other words, when Dave and I were visiting Casa Natalia several weeks ago, I knew there would be days like this.
Today in South Carolina the weather is less than stellar. A bit of an aberration for the end of March indeed, but I made the mistake of checking the weather in San Jose del Cabo.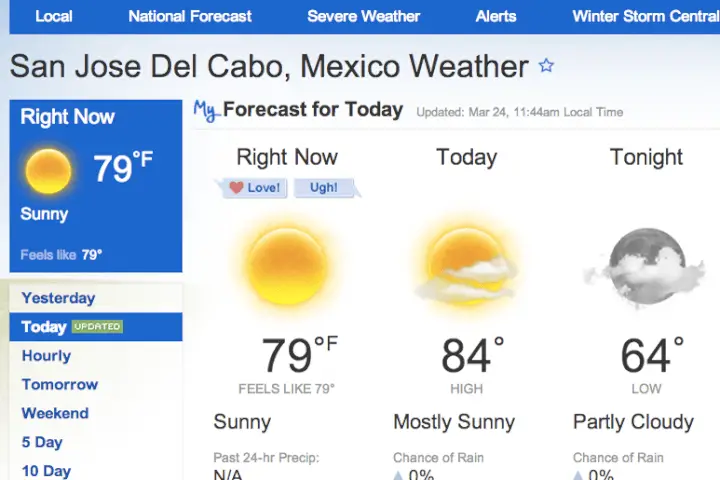 Even so I'd be lying if I said that at first we were excited to be at Casa Natalia. You see being there meant our Un-Cruise Adventure on the Sea of Cortez was over.
The inn is located just off the main square in San Jose del Cabo,a tourist town located at the very bottom of Baja California. Like the town of San José del Cabo itself, Casa Natalia is colorful, and although geared to vacationers, has a refined edge compared to the more party minded Cabo San Lucas located a few miles further up the road.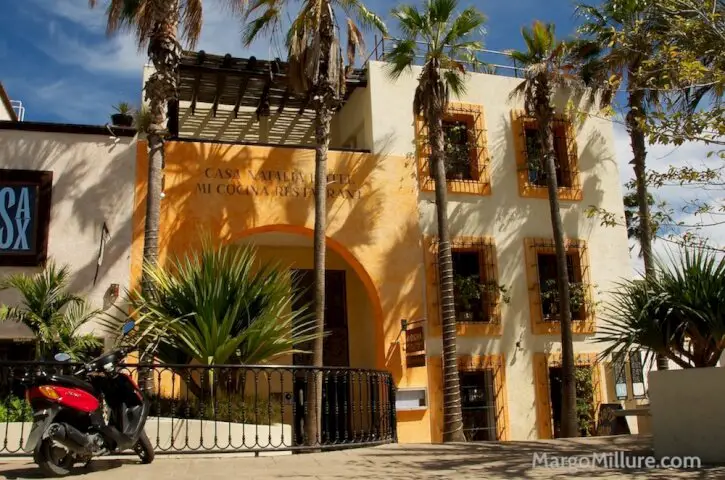 Some new friends, whom we met on our Un-Cruise, had stayed at Casa Natalia on their first night before the cruise and had been singing its high praises. Not wanting to end up disappointed though, we kept our expectations in check – the best we could, anyway.
Fortunately from the minute we walked in the door we knew we were in for something special. A half an hour in, I was pretty sure I may never want to leave.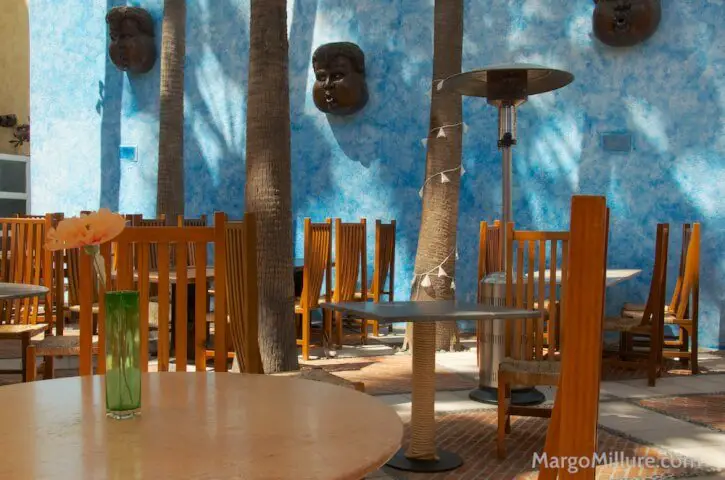 In spite of being located in town, Casa Natalia has a wonderful secluded feel. Armed with the  knowledge from our friends' visit the week before, without so much as wondering about other options around town, we ate three outstanding meals in a row on site.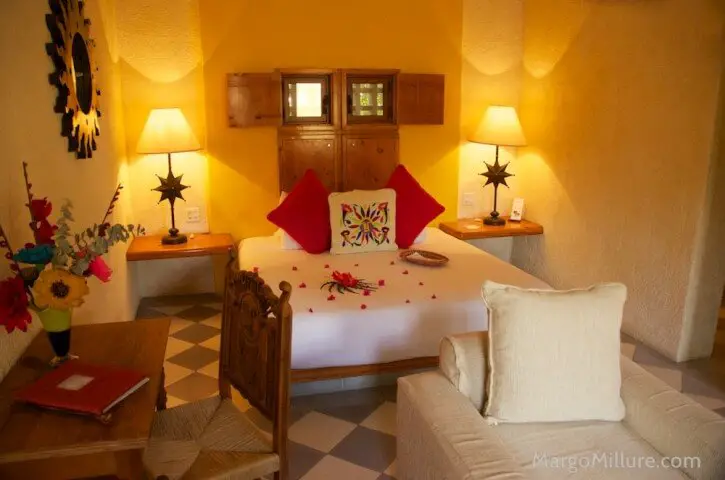 Throw in high marks for friendly service and this place practically oozes happiness. Visually appealing in a colorful style that could be overwhelming to the senses in less talented hands, the effect was balanced with mixes of tradition, modern art and creature comforts.
Midday happy hours, outdoor dining and plenty of places to soak up a final dose of vitamin D were everywhere. We attempted nothing more trying that sipping colorful cocktails and finishing the last pages of our respective vacation reads.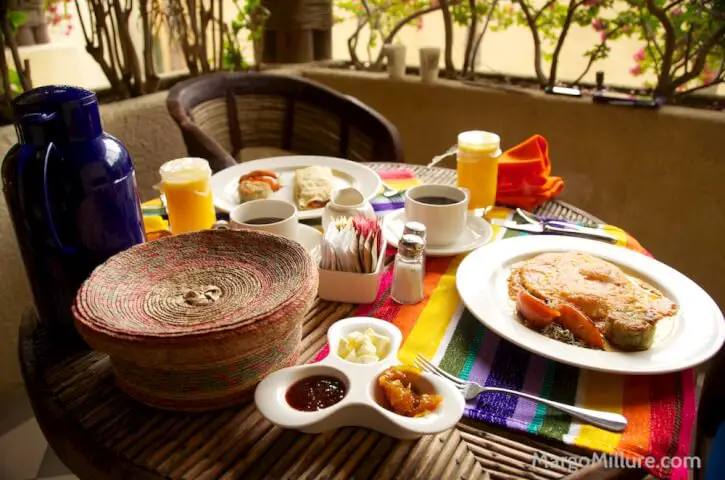 We both almost cried the next morning when it was time to leave. But not before our third and final meal in Baja: breakfast served on our private patio. Both patio and food set new meaning and standard for the whole concept of  "in room dining."
Getting There: Located at the tip of the Baja Peninsula, where the Sea of Cortez meets the Pacific Ocean, Los Cabos is easy to get to as the Los Cabos International Airport (SJD) at San José del Cabo is served by nearly all major airlines, many offering direct flights from major cities. The airport is just eight miles north of San José.
Amenities: Casa Natalia features traditional Mexican charm paired with European amenities. Hammocks, secluded balconies, complimentary breakfasts, gourmet restaurant, and bar.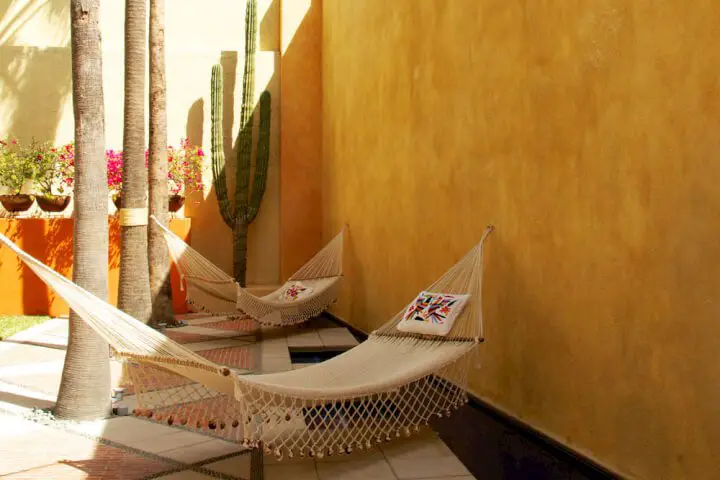 Be Sure to Eat and Drink (aka – the drool factor) : A colorful cocktail taken poolside is a must, along with dining as often as possible at Casa Natalia's outstanding restaurant, Mi Cocina. For dinner we can highly recommend either the Roasted Chicken with Chocolate and MiCocina Risotto which features shrimp, scallops, clams, squid and herbs served with risotto and topped with provencal butter. Also be sure to fill out the card in your room the night before, so you don't miss taking breakfast on your patio.
I received a media rate for my stay at Casa Natalia, but as always,  my opinions are my own.