Last Updated on
If you're looking for a break from the drab city life or just an adventure-packed holiday, then Portugal is the destination for you.
While the country will always remain popular for its lush golf courses and pristine beaches in the south, the rest remains a traveller's goldmine of untapped beauty and activities waiting to be conquered.
From Porto in the north all the way down to the Algarve in the south lies an abundance of outdoor action that is a must-do for any visitor.
Here are our best things to do outdoors in Portugal.
Travelling to Portugal soon? For awesome travel tips and guidance make sure to pick up [easyazon_link keywords="Lonely Planet's Guide to Portugal" locale="US" tag="tbelles-20″]Lonely Planet's Guide to Portugal[/easyazon_link], it's awesome!
Go Surfing
Get up and get active by trying your luck at some water sports along Portugal's vast coast.
Being north of Lisbon with a variety of swells and currents, Porto is a great destination for newcomers to water sports and is packed full of various spots catering for windsurfers, bodyboarders and surfers alike.
For those with a bit more skill and bravery than most of us, Nazaré provides larger waves with some even reaching 15ft in winter.
The beauty of going surfing is that it requires little preparation, meaning you can easily fit it into your schedule. In addition, it is super simple and affordable to rent boards from the local surf shops dotted along the beachfront.
You will like: Cheap City Break in Porto – Our Recommendations
Play Golf
With year-round great weather, it should come as no surprise that Portugal is one of Europe's top golfing destinations.
Boasting ninety golf courses, there is no shortage of quality and beauty when it comes to playing a round in Portugal. Popular courses lie in and around the Algarve and Lisbon coast with the majority of them attached to hotels or luxury estates, making it the perfect place to bring family.
By far the most challenging part of your golfing experience will be trying to concentrate on your game when faced with the natural grandeur of the surrounding countryside.
Check out these golf holidays in Portugal.
Walking & Hiking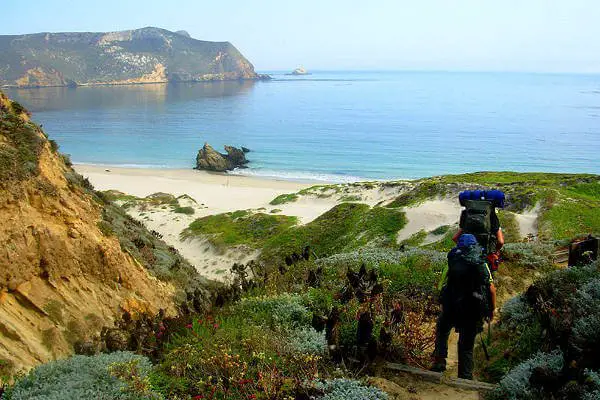 Inland from the bustling beaches you will find Portugal's protected areas and its national park – the Parque Nacional Peneda-Gerês.
These quieter spots are perfect for all types of walker with trails ranging from sunset walks in Alentejo to vigorous hikes on Madeira Island.
The trails aren't always clearly marked and many of the information centers don't have English guides so be sure to plan your route well in advance to prevent any disappointments.
You will like: Portugal's agricultural region: O, Alentejo
Horse Riding
Over recent years, horseback tours have gained popularity as a great way to explore the unique environment along the coastal routes.
Most riding centres cater for beginners as well as experienced riders with some even offering pony rides to younger children.
Choose from long rides along the Algarve coast to informative, guided tours through the country's national park to lessons in dressage for the serious horse riders among us.
Kayaking
There is no better way to explore some of Portugal's more remote regions than by kayak. Leave the rental car behind and take to one of Portugal's many rivers, winding their way through rugged mountains, isolated villages and untouched forests.
If you're more of an ocean person or perhaps don't have time to trek inland, try navigating the lagoons of the Ria Formosa, laden with marine life and adjacent to numerous nature reserves.
Choices of kayak trips range from a few hours to a few days and won't break the bank either making it a value for money sightseeing alternative.
Whichever activities you do end up choosing, they will all leave you in awe of the absolute beauty of Portugal. Give yourself a moment to take it all in and appreciate the experience.
Pin For Later