Indianapolis may be famous for fast cars, but there's plenty more to see in this Midwest city
There's no better time to visit Indianapolis, Indiana than in the spring, when it's party time here in the Hoosier Heartland. That's because of the most celebrated sporting event in town (and, no, it doesn't involve a football, basketball, baseball or tennis ball).
I'm talking about the Indianapolis 500-Mile Race, said to be the largest single-day spectator event in the world (although, by tradition, the exact count of tickets sold is never released publicly).
The schedule of dinners, galas, and other events themed to this late-spring event brings out the best in party dresses. Insiders know that the togs should be racing colors: white or black (to match the checkered flag that signals the start and end of the Indy 500), or the signal flag colors of green, yellow or red.
The race will take place on May 27 and is sure to fill Indianapolis with energy and enthusiasm. It's the perfect time to see this Midwest city in all its glory.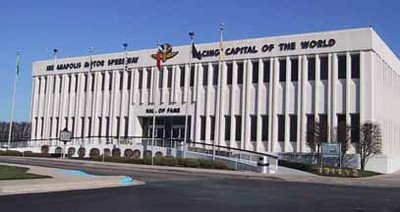 1. Even if you don't want to shop and you're not planning to be in town for the race, you can head out to the Westside of the city and check out the Indianapolis Motor Speedway any day of the year. If the famed oval raceway isn't in use for testing – always a risk in the weeks leading up to the race – plunk down $5 for a ride around the track on a narrated minibus tour.
Otherwise, fork over $5 for a ticket to get into the Hall of Fame Museum. It's always open, with some 75 vehicles on display at any one time. They range from previous race winners to classic automobiles.
2. Another nickname for Indianapolis is the Circle City – a moniker earned by the street design downtown, which is fashioned after the layout of Washington, D.C. There's a circle right in the center of the grid of the Mile Square. It was originally intended to be the site of the Indiana governor's mansion but no governor's wife was willing to live in such a visible location.
For more than a century, it's been anchored by the Soldiers' and Sailors' Monument, dedicated in 1902 to honor those who served in the military. Sit on the steps or climb to the top for a great view of the city.
Bonus: Monument Circle is a free Wi-Fi zone, not to mention a great place for an al fresco lunch.
3. Your next "must" stop gives a closer look at an Indy author whose fame was secured quite by accident. Kurt Vonnegut – a third-generation Hoosier of German descent – was a German prisoner of war when Dresden was firebombed by the Allies in 1945.
His experiences provided the basis of Slaughterhouse-Five, or The Children's Crusade, published in 1969 against the backdrop of the social upheaval during America's war in Vietnam. Learn all about him at the Kurt Vonnegut Memorial Library, which opened just last year in downtown Indianapolis.
4. By now, you're probably hungry. Sure, there are all sorts of fancy places to eat in town, but my recommendation for stop number four is to try some good, down-home cooking at one of our cafeterias. Jane and Michael Stern, who have turned their Roadfood excursions into a publishing juggernaut, recently called Indianapolis the "nation's cafeteria nexus" and recommended these three "square meal shrines": Jonathan Byrd's in Greenwood (check out the turkey pot pie), Gray Brothers Cafeteria in Mooresville (try chicken and noodles here) or my personal favorite, Shapiro's Delicatessen just south of downtown Indy. I never order anything there except lox and cream cheese on a bagel followed by strawberry cheesecake, but deli fanatics swear by its corned beef on rye.
5. A bit of sophisticated culture seems in order at this point, so for your next destination, roll on out to the spacious grounds of the Indianapolis Museum of Art. Not only are there the usual galleries with all the paintings, etchings and sculptures you'd expect to see at a major museum, but there's also something quite unusual: 100 Acres: The Virginia B. Fairbanks Art & Nature Park.
An outdoor gallery on (surprise!) 100 acres that includes woodlands, wetlands, meadows and a 35-acre lake, this is one of the largest museum art parks in the country, and the only one to feature the ongoing commission of site-specific artworks. Take the time to wander – 100 Acres is open every day from dawn until dusk.
6. Speaking of wandering, Indy also boasts one of the largest municipal parks, Eagle Creek. Legend has it that Daniel Boone carved his initials into a tree not too far from the park's Nature Center. There are almost 4,000 acres of parkland plus 1,400 acres of water. The park is centered on Eagle Creek Reservoir on the city's northwest side. Visitors can rent pontoon boats, go swimming at a sandy beach, hike on the 22 miles of marked trails, enjoy a picnic lunch or spend a quiet afternoon bird watching.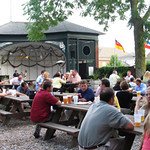 7. Now, Travel Belles, let's do some serious shopping. Sure, there are shopping malls in and around Indianapolis, but for some locally-owned options head to Massachusetts Avenue. One of the city's original Cultural Districts, Mass Ave has a vibe all its own. Look for art galleries, bars and boutiques plus independent eateries along this diagonal street just northeast of downtown. 
Need a refreshment? My absolute favorite restaurant, R Bistro, anchors the far end of Mass Ave. Menus change weekly to take advantage of locally available seasonal ingredients. You might want to stop for a beer at the Rathskeller, found in the cellar of the Athenaeum Building (designed by Kurt Vonnegut's grandfather). This Bavarian-style restaurant and bar are said to be the oldest continually operating eatery in Indy.
8. Speaking of things cultural, don't miss a chance to experience Indy's Cultural Trail. A unique urban experiment that's not quite finished, the eight-mile trail is a bike and pedestrian path connecting neighborhoods and Cultural Districts (there is five downtown, including Mass Ave).
It also serves as the downtown hub for the entire central Indiana Greenways system. In addition to plantings and benches, there's informational signage and lots of public art.
9. Indianapolis means "city of Indians" and you can indeed learn about indigenous cultures in the Circle City. Just meander on over to the Eiteljorg Museum of American Indians and Western Art. This isn't a stuffy, historical kind of museum with musty buffalo heads, beaded moccasins, and panoramas of the Grand Canyon.
There are Western classics by Remington and O'Keeffe to be sure, but check out the artwork by contemporary Native Americans that are showcased along with a wide variety of temporary exhibits. Steel Ponies, open through August 5, explores the art, history, and cultures that have developed around the motorcycle.
If you can, time your visit to take in the 20th Indian Market and Festival, set for June 23 and 24.
10. A personal favorite rounds out my list of 10 things to see and do in Indianapolis: the Children's Museum. OK, I know what you're thinking; only visitors with small children would be interested in a stop here. Not true. Adults are just as transfixed as kids by the 26.5-foot Water Clock, which tells time with 100 metal pieces, 40 glass pieces and 70 gallons of a water/methyl alcohol mixture.
Those who love the glass art of Dale Chihuly are fascinated by the 43-foot Fireworks of Glass, his largest permanent sculpture, with more than 3,200 pieces of glass in the sculpture itself and an additional 1,600 in the ceiling.
*First photograph by momentcaptured1, all others by and property of the author
Pin for Later