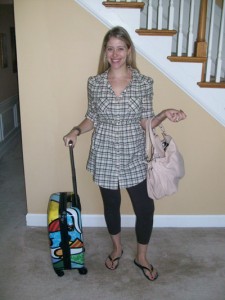 Editor's note: We'd like to welcome Taryn Scher to our growing list of regular columnists. She will be checking in once a month with travel style tips, travel fashion, accessories and gadgets. Today she gets started with her personal list of 10 must-have travel items.
Over the years, I've tested out dozens of products that claim to make traveling less of a hassle.  Some of them do, some don't and some are so good, that they truly have become a necessity for me every time I travel.
Here are my 10 favorites that go everywhere with me.
A good carry-on bag is a necessity. These can serve different functions for different people. For me- as with fashion- I prefer look over function and this special edition partnership between artist Romero Britto and Heys USA is sure to turn heads. (we covered this luggage collection a while back.)  And in all fairness, this bag is a durable one. I have not set foot on an airplane in 3 years without this bag and he's held up quite nicely. Of course, any time the airline insists on checking it underneath even though it fits in the overhead compartment, a little part of me dies inside hoping it doesn't get beat up in the process. Inside is not the most ideal, but I've figured out how to make it work over the years. And this bag literally stops traffic- I've had people on the streets of Manhattan stop me, and every single time I'm in the airport, someone tells me how fabulous this bag is. I couldn't agree more.  22″ Spinner, $250 – 300
For those of us looking for a bit more function over fashion, the Skyroll Garment Bag ($150) has done me proud over the years- especially when you need to bring a suit or dress. The genius design allows you to roll up your clothes (we all know by now this is the best way to prevent wrinkles) around an inner tube- which you can then fill with your shoes and toiletries.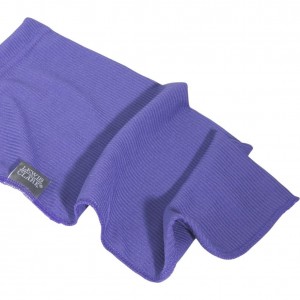 I have almost 200 pairs of shoes, but much to everyone's shock I am quite good about packing shoes. I have learned which shoes I can actually run through airports in and still look chic, I have learned which shoes I can't walk 3 New York blocks in so I can only take them when I'm planning to cab it the entire time. But when it comes to packing my shoes, a must for me are shoe bags- why on earth would I put my filthy city streets-covered shoes up against my freshly dry cleaned clothes? A word of advice: do not get a shoe bag that doesn't have a fabric divider separating the shoes- having your $700 shoes rub against each other for 5 hours en route is not doing any good.  Here's the best part- most nicer shoes come with a shoe bag in the box and I've found that they're better than the ones you can buy! So this one is FREE! (unless you count the shoe price tag….)
I have naturally curly hair. This has absolutely no meaning to your life except for the fact that I must travel with a flat iron because I simply refuse to allow my hair to go wild in a professional setting. The cinda b curling iron cover ($25) has saved me on a number of occasions because it's fabric allows you to pack a still-hot flat iron (or curling iron) into your bag without having to worry you're going to accidentally light your clothes on fire or burn a hole through your favorite pair of pants. $25
I owe the biggest "Thank You!" of all to the creator of the Tugo coffee holder ($12.95). This genius little device attaches to either side of my carry-on bag handle and holds my coffee for me so I have free hands to dig through my wallet and retrieve my ID, run through the airport to catch a connection, thumb through the latest US Weekly at Hudson News- you name it. I'm already cranky at 6am in an airport, so not having to juggle 6 things in my hands and worry about spilling my coffee at the same time makes the day start a little easier. $12.95.
Okay, so we've already made it clear I have a lot of shoes. Shoes add weight. The airlines have weight limits. Thank goodness for the Balanzza Digital Luggage Scale.($24.99)  This simple little device, which hooks onto your bag and weighs it for you just by lifting, has saved me many embarrassing moments in the airport of unpacking, repacking, all with the hope that my delicates were packed somewhere close to the bottom where no one can see them.
With liquid limitations, I try and find anything that comes in a 3 ounce container. I have everything from my favorite shampoo, to deodorant, to face wash and even my dry shampoo. But I always fear the possibility that something will leak or break en route. Lucky for me one of my favorite brands TOCCA has a solid perfume that fits TSA requirements and can't break or leak. The Colette Solid Perfume is the perfect size and the perfect refresher.
This may seem silly- but it's saved me on a number of occasions. The Paper Shower ($14.50 for 12-pack). 

Have you ever jumped on a flight, and had to go straight to an event or meeting and by the time you've arrived you're looking a bit, well, stale? The Paper Show is a genius creation- it really will leave you feeling refreshed and even smelling better- and you don't need any soap and water.  Trust me on this one- leave one in your purse, glove compartment, travel bag- you'll wind up keeping one in every possible location.
I don't have kids but I have been on enough airplanes to know which kids I won't mind being stuck next to for 2 hours and which ones I will pretty much pay anyone to trade seats with me for. If I saw a child board the plane equipped with Content and Calm's TrayKit ($40), I would gladly take my seat and buckle up for take-off knowing that child will be content for the duration of the flight. The TrayKit is an all-in-one kids carry-on backpack that can strap to the plane tray table (or even hang from a car seat for road trips) to provide an extendable play surface with raised sides so the toys and art supplies aren't falling everywhere. Toys/supplies are not included. Available in US at One Step Ahead.
Luxury Splurge! Remember the days when you used to be greeted by a pillow and a blanket, sometimes even headphones on your flight? Yeah, those days are long gone. I am always freezing when I fly, so a must for me is a blanket. In my adult years, I've become something of a germophobe- likely because the last thing I have time for is to get sick- so I prefer 

to travel with my own blanket. Blanc de Chine's 100% silk travel blanket ($375) has accompanied me on every flight for the past 7 years and it's still in brilliant shape. The soft delicious silk seems to have an internal activator that heats you up within seconds, and the blanket rolls right up into a bolster to make for easy travel and a doubly functioning pillow. Call 212-308-8688
What are your personal favorite travel items? Anything you'd like to see us cover in upcoming months?
You may want to check out our recent feature featuring the color navy.